ID. Buzz and ID. Buzz Cargo – the future of mobility

ID. Buzz and ID. Buzz Cargo – the future of mobility

With the ID. Buzz and ID. Buzz Cargo, Volkswagen Commercial Vehicles is heralding a new age in electric mobility and proving itself willing to shape the future of fully autonomous driving.
The first fully electric commercial vehicle combines innovative design with digital driving comfort: well thought out, optimised, future-oriented. And who better to explain the fascinating features of the ID. Buzz Cargo and the ID. Buzz Cargo than those who worked on the vehicle design and technology: the Volkswagen Commercial Vehicles experts Christian Senger, Head of Autonomous Driving; Lars Menge, Head of Product Marketing and Albert Kirzinger, Head of Design at Volkswagen Commercial Vehicles, explain why it is a real pioneer in terms of commercial and private use and what we can expect in the future.
Never before has a legend been so innovative

One thing is already clear: the ID. Buzz is proving to be an absolute pioneer. "It's fully electric, very iconic and the first vehicle to boast the Volkswagen Group's fully autonomous driving system", explains Christian Senger. The vehicle's extraordinary design of course catches the eye. "The ID. Buzz is reminiscent of the first Volkswagen bus, but at the same time shows a taste of things to come through its consistent use of electric mobility", explains Lars Menge. For the first time, the newly developed MEB platform, or modular electric drive matrix – already in use in Volkswagen's ID.3, ID.4 and ID.5 vehicles – has been used in a Transporter. This made it possible to completely redesign the vehicle's space concept. Unlike most other vehicles, there was no need to take into account a combustion engine, multi-speed gearbox – which takes up a lot of space – or a fuel tank. The result: maximum use of the vehicle interior with very compact exterior dimensions. Albert Kirzinger, Head of Design at Volkswagen Commercial Vehicles, knows what's gone into it. "It's pure electric mobility: the battery is located very low down and there is an electric motor. The MEB gives us designers the opportunity to equip the space above this relatively freely."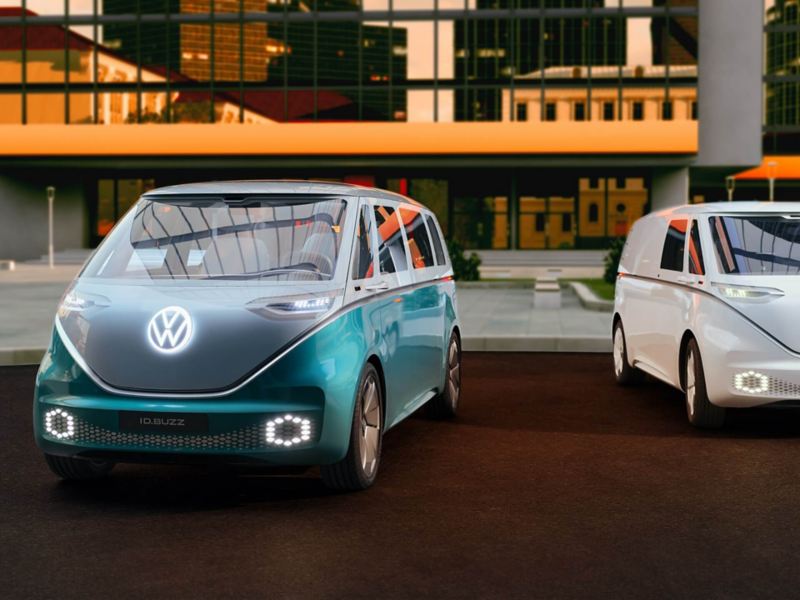 Developing an innovative vehicle also means thinking about the future of the environment and climate. Lars Menge is also well aware of this: "We are in a phase of transformation and everyone is talking about CO2 and climate change." The ID. Buzz will be carbon-neutral, making it an important part of this transformation.
Way to Zero is the phrase encapsulating this ambitious goal – probably the biggest challenge in the company's history. Maybe even the biggest challenge in the history of mobility: Volkswagen and Volkswagen Commercial Vehicles will be taking responsibility for their share of global CO2 emissions. That is why they are committed to complying with the Paris Climate Agreement, with the goal of becoming companies with a carbon-neutral balance by 2050. This is why efficiency also played a major role in the development of the ID. Buzz. "We want to enable efficient transport", says Kirzinger, "whether that's for passengers, goods or trade. The ID. Buzz and ID. Buzz Cargo bring Way to Zero into urban areas, which is a huge innovation in commercial operations."
More digitalisation. More time.

Innovation without digitalisation is scarcely conceivable. This was certainly the case when it came to developing the ID. Buzz. "We thought about how we could make our customers' lives easier", says Lars Menge. The goal is to really bring digitalisation to life for drivers. "As designers, we need to design products that help people", agrees Albert Kirzinger. "Digitalisation can be an opportunity if we have the right understanding of it: giving people back more of their time and allowing them to be more human."
The ID. Buzz is the first vehicle that is not only based on the modular electric drive matrix, but which will also receive the "E to the 3rd power" vehicle electrical system architecture. This means that drivers are offered functions on demand that they can easily configure via their vehicle or mobile phone.
Of course, there is a high level of convenience in the ID. Buzz standard: it features sophisticated driver assist systems with precisely optimised sensors and computers for even greater road safety. Christian Senger knows that this is the future of driving. "In fully autonomous driving, we can no longer just use simplified scenarios, we have to master the most complicated situations. Fully autonomous driving offers enormous opportunities to make our everyday lives better, as individuals or as a commercial company." Although this is still some way off, the future is already closer than you think: autonomous driving in public spaces is due to begin as early as 2025. Argo AI, an autonomous driving technology company, and MOIA, Volkswagen's ride-sharing provider, want to transport people in Hamburg using autonomous driving for the first time.
If I imagine that I have a product that can drive partly or fully autonomously, digitalisation helps me to do something for myself during this time.

Autonomous driving a sure-fire success

The ID. Buzz will be the first of a new generation, both in terms of technology and design.

For the experts, one thing is clear: the advance of digitalisation is an opportunity, not a restriction. "Having your journey time available for yourself will be a great privilege, allowing you to write emails or complete a language course", says Christian Senger. "The ID. Buzz will be a big step in this direction." Drivers should be able to actively use their driving time for themselves; the car will take care of the rest. "Now that we know the major trends, we want to be a pioneer in mobility. That's exactly what these fully digitalised vehicles will allow us to do." In the future, vehicles will assist drivers. For example, it will no longer be necessary to worry about where to park or how to get to your destination. Trips will simply be booked via smartphone; then it's just a matter of getting in the vehicle and arriving at your destination. And everyone will be able to use their driving time exactly as they please.
Not only is the time right for the ID. Buzz and ID. Buzz Cargo, but society is also ready for them. The first fully electric vehicle from Volkswagen Commercial Vehicles is a pioneer in the mobility of the future. With their innovative vehicle technology and ground-breaking design, the ID. Buzz and ID. Buzz Cargo are new milestones in automotive development. They already embody the type of vehicle we will need in the future, paving the way for a future of independent mobility for private and commercial users.