Jayda G: the sounds of nature meet the

ID. Buzz



Jayda G: the sounds of nature meet the

ID. Buzz



Biologist by day, DJ by night – as an environmental toxicology specialist, Jayda G has an ambitious goal: "Music and the environment are the two things that are on my mind day and night. My goal is to find out how I can merge the two." A native of Canada, in this article she describes how the ID. Buzz inspired her to create a unique song.
Jayda G may well have been predestined to move between two worlds from the very beginning. She grew up in the small town of Grand Forks, Canada, which has a population of 4,000: here her hippie parents lived in a tiny hut without running water or electricity but with a view of mountains and endless forests. From the moment she was born, she became familiar with the world of nature at the very heart of the great outdoors, and she says that this proximity to the wilderness was "a really big part of my upbringing". As such, it was only logical that she would later go on to study biology. During this time, she discovered her second passion that continues to take her all over the world to this day: her work as a house music producer and DJ.
The natural world has the chance to emulate all the emotions that any other human being can emulate. You just have to sit still and listen.

From time to time, Jayda G did have to leave the mountains as a child: when she was five, her mother would send her off to violin and piano lessons. This is something she's still able to benefit from today: when she's not working as a DJ, she makes her own music – and plays the keyboard herself. The highlight for her is always doing concerts in front of a live audience: "It's when you're at a concert that the magic really happens. That's the point you're always trying to reach as an artist. It's what keeps us grounded and connected. It appeals to the soul, too, and has a cleansing effect. A few days ago, I was listening to a songbird and sang along with it – I love the way songbirds sing! That's the moment you want to capture when you make music yourself. It's something that really works for me personally. Because it's the way I am."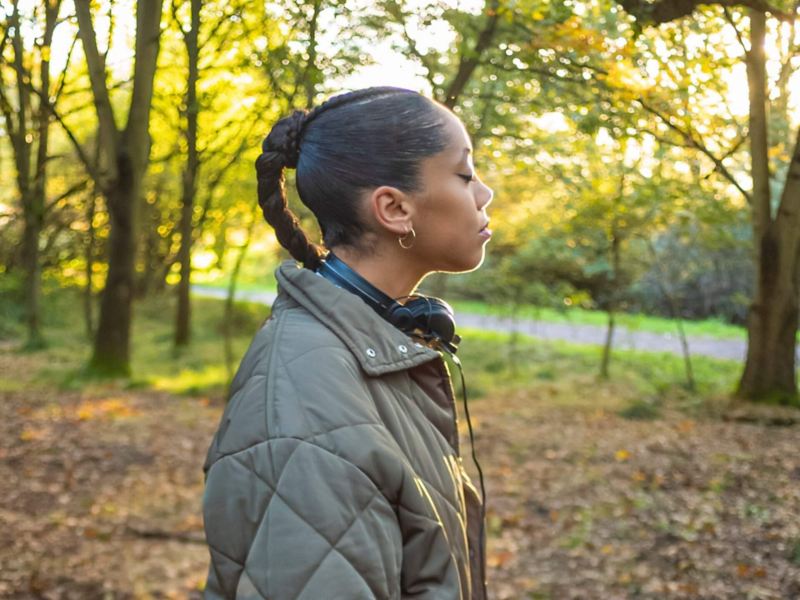 Whether as an environmental toxicologist or a DJ, Jayda G is on the go a lot. Music is an important companion on her travels nowadays, just as it has always been. Another companion was the VW van: "When I was growing up, you saw VW vans all over the place in British Columbia. It's an icon. Seeing it take on a new form now as a fully electrically powered vehicle really transports this past era into a new age for me." The fact that as an environmental toxicologist she can now travel sustainably in the ID. Buzz makes it even more special for her.
But as a musician, it's not just the emotional or ecological component she's fascinated by in the ID. Buzz – it's what the ID. Buzz inspires her to do as well. No wonder someone who's so involved with nature and sound isn't just fascinated by what you hear about the ID. Buzz but in particular by what you can't hear thanks to the quiet electric motor. More silence and more opportunities to listen to nature – for Jayda G, this is absolutely perfect. 

Some of my happiest memories have been listening to music in the car, driving through the mountains.

The sound of nature – inspired by the

ID. Buzz



As a biologist, Jayda G is always close to nature. The ID. Buzz has enabled her to be close to nature as a musician, too: this is because it inspired her to create an unusual song: "I want to write and produce a track using sounds from nature – flowing water, the wind whispering through leaves, the singing of birds – all the things you can hear when you're outdoors and in the ID. Buzz." Equipped with a mobile recording studio, Jayda G went off into the countryside around London to start sampling natural sounds for her song. Back in the studio, she then mixed in sounds of the ID. Buzz itself with her nature recordings, also integrating her own signature sound elements.
The result is exceptional – a track that is cheerful, atmospheric, soft, and very catchy. No wonder, says Jayda G: the biggest inspiration for her is how the ID. Buzz as a technological innovation connects us with the authentic world of the great outdoors.
Jayda G is a biologist, DJ and music producer.

Born in Canada, she now lives in London, having spent several years in Berlin.