1

,

2
e-Mobility
Our goal: a holistic offering for sustainable mobility
e-Mobility
Our goal: a holistic offering for sustainable mobility
We want to make mobility cleaner and more efficient in the long term – holistically. The new ID. Buzz is a good example of this approach.
It enables us to make the switch to climate-conscious e-mobility more attractive and, thanks to the comprehensive services available from the Volkswagen Group, we can offer our customers almost everything: from innovative technology to sustainable recycling.
Innovative mobility with the

ID. Buzz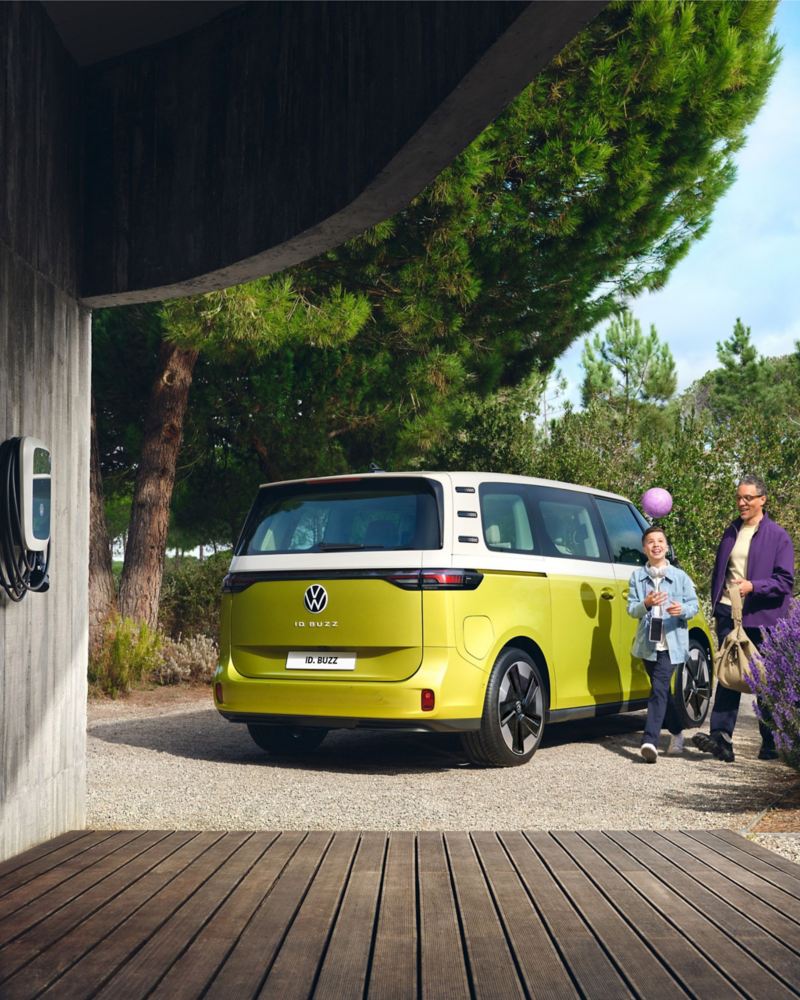 Our 360° approach to e-mobility
Climate change is one of the greatest and most important challenges of our time. That is why we are committed to the Paris Climate Agreement and have set ourselves ambitious goals. We assume responsibility for the entire share of the value chain of our vehicles and want to be a company with a CO2-neutral balance sheet by 20503.
The new ID. Buzz is the first vehicle from Volkswagen Commercial Vehicles to be developed as an electric vehicle from the ground up - from the first sketch to the last touch. It is an elementary part of our holistic 360° e-mobility approach - from the supply chain to production and the use phase to recycling. Only through comprehensive sustainable action can we achieve our goals. The fully-electric ID. Buzz will be created net-carbon-neutral3 helping change our company and our mobility, in a sustainable way.
Charging on the go: convenient and flexible

The new ID. Buzz removes the need to visit a petrol station to refuel with the battery able to be charged where you are – even on the go. For example, at a charging point at work, at a public charging station on the motorway, at the supermarket, in a public car park or in a residential area with friends.

The maximum charging power for regular charging (AC) is a maximum of 11 kW. While fast charging (DC), for example on the motorway, allows for a maximum of 170kw, with around 30 minutes4 of charging increasing the battery from 5% to 80%.

To make the charging process even easier, thanks to Plug & Charge5, you only have to plug in the cable and charging begins. This technology assigns authentication data to your vehicle, so that the charging station automatically recognises who you are, making charging even more convenient.

Some of this technology has been available since 2022 and is being rolled out step-by-step via an ISO-certified standard so that you can use more and more Plug & Charge5 charging stations in the future. Where Plug & Charge is not available, you can continue to charge via your We Charge6 charging card or the We Charge function within the We Connect ID. App6. Billing takes place automatically here too.

To find a free charging station at over 310,000 charging points throughout Europe, simply use the smart We Charge charging service. This will enable you to travel with your ID. Buzz everywhere - with the help of one of the largest and fastest growing charging networks in Europe.

Charging at home with Ohme wallbox


We've made charging at home cheaper and greener by teaming up with Ohme, who are on a mission to speed up the global transition to clean energy by providing an easy-to-use smart charging system. The Ohme Home Pro wallbox is packed with lots of intelligent features which can help you charge your electric vehicle when carbon intensity on the Grid is at its lowest and, if you have an energy tariff with variable or intelligent rates, can intelligently charge your vehicle when energy rates are low. Thus helping you save money as well as reduce your carbon footprint.
Batteries & recycling: guaranteed longevity

In contrast to combustion engines, electric motors hardly need any maintenance because there are no wear-prone parts, such as a timing belt and there is no need to change the oil. This means longer inspection intervals and fewer workshop visits with lower maintenance costs.
Modern e-vehicles like the new ID. Buzz are designed to last a long time. Therefore, for many potential customers, the focus is usually on the question: How long does the battery last?
The lithium-ion high-voltage battery of the ID. Buzz has a high energy and power density. It is also maintenance-free, has high cycle stability and low self-discharge. However, factors such as the number and type of charging processes (AC/DC), compliance with charging limits or ambient temperatures have an impact on their service life. This inevitably leads to a loss of range over time.

With the high quality ID. Buzz, we guarantee a usable net battery energy content of at least 70% for its lithium-ion high-voltage battery for eight years or up to 100,000 miles driven7.
However, used batteries do not end up in landfill. On the contrary, these make a significant contribution to our holistic sustainability strategy with second-life applications, in which we use batteries after their life in the vehicle, for example as a power storage device.
At the same time, we strive to recycle a high proportion of raw materials used. As a result, up to 97 percent of battery raw materials, such as nickel, copper and lithium can already be recovered in our pilot plant at the Salzgitter plant.