Engine & transmission
Engines offering refined power, even at low revs, and better than ever fuel economy. Transmissions designed to suit your driving style.

Rain, snow, mud or gravel fail to create a problem for the innovative 4MOTION all-wheel drive system. It's designed to maintain traction, offer stable road holding and increase safety when encountering poor surface conditions.

Driver assistance & safety
Driver assistance systems offering a smoother and safer drive.
Available as an option, Adaptive Cruise Control helps avoid accidents by keeping your vehicle at a safe distance from the traffic ahead. It means you can cruise safely and comfortably on a long journey. This technology works using the radar-controlled Front Assist area monitoring system with City Emergency Braking system. It can detect traffic ahead and adjusts your speed to maintain a constant gap between you and the vehicle in front. If you get too close, audio and visual signals will be displayed, and if necessary, emergency braking triggered.
Overtired drivers cause up to 25 per cent of motorway accidents, so it's important to take a break on long and tiring journeys. Our Driver Alert system gives an early warning for when you need a break and makes motorway driving safer. It works by carefully monitoring driver behaviour, tracking wheel movements and lane deviations - so it can judge when you start to feel sleepy. If the system senses you starting to lose concentration, it will alert you with a warning sound via the dashboard visual display.
Our Brake Assist system is designed to help in emergency or panic braking situations. This safety function can substantially shorten your vehicle's stopping distance, although it's so smooth in operation you'll hardly notice it working. The system detects that full braking power is needed and automatically boosts the brake pressure up to the ABS threshold, and continues to do so whilst you keep the brake pedal pressed down. If you then ease off the pedal, the system will reduce the brake pressure again to match the brake pedal's position.
There are an increased number of hazards to avoid when driving around town. The City Emergency Braking system is an innovative technology that helps avoid collisions under these conditions, greatly improving peace of mind and safety, especially for people working in multiple city locations. Automatically activated at speeds under 18 mph, this system detects critical distances, warns of hazardous situations and triggers emergency braking if the driver fails to brake and a collision is imminent. When another vehicle starts getting close, it primes the brakes so they can be used more quickly. If it gets too close, the system brakes automatically and completely stops the vehicle. This can reduce the severity of an accident and even avoid a crash.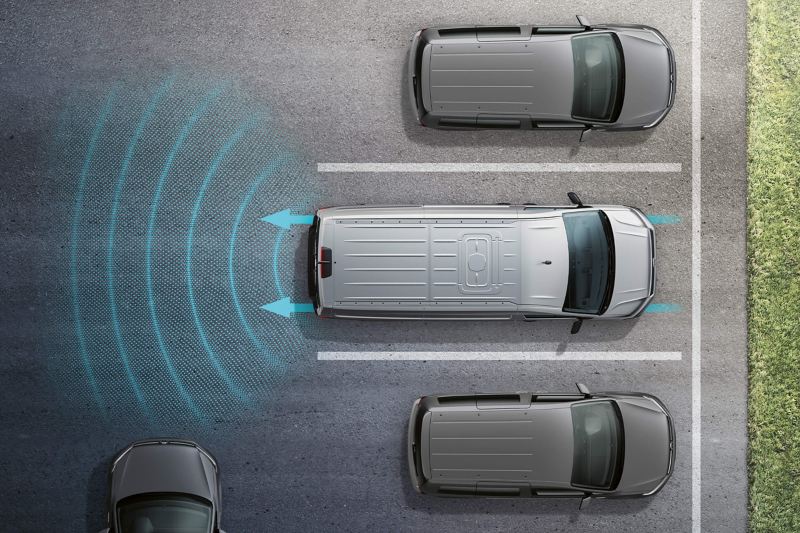 Park Assist
Did you know most bumps and scrapes occur when parking? Active Park Assist helps eliminate this risk by parking the vehicle for you automatically. To use the system, you just press a button and the vehicle uses multiple sensors to steer itself into the tightest parking spots. All you have to do is sit back, work the pedals and let the technology do the work.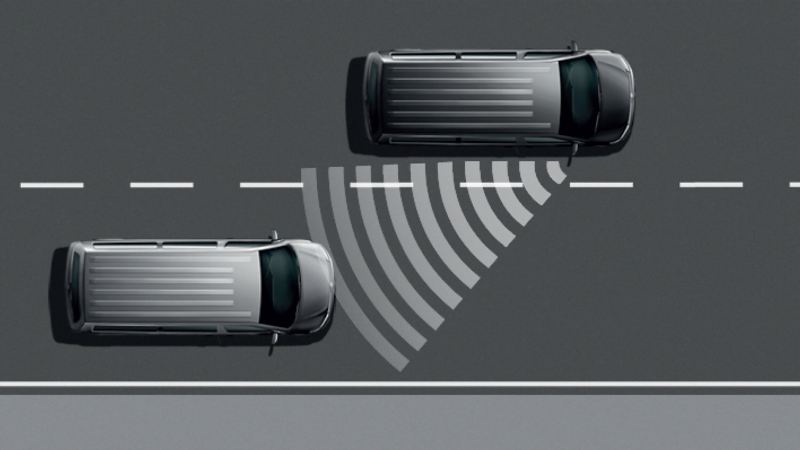 Lane Change Assist - Side Scan

Available as an option, Side Scan displays a warning signal on the exterior mirror as soon as one of its sensors detects a vehicle in a blind spot during a lane change.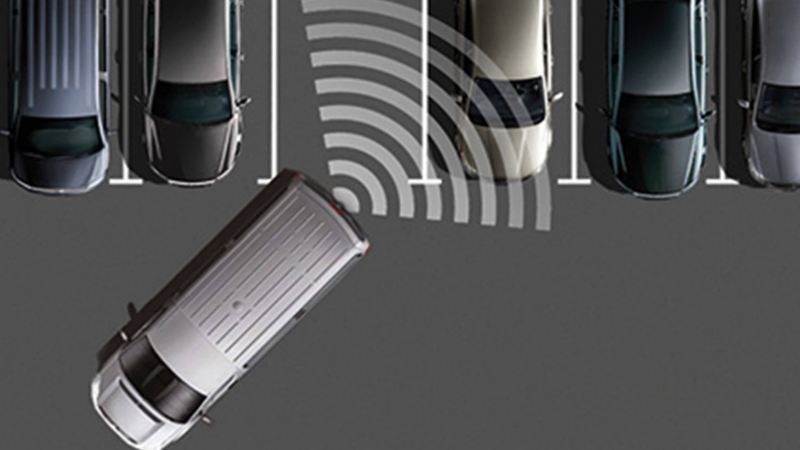 Rear-view camera

The optional rear-view camera gives you an optimised view of the area behind your vehicle. The system utilises the screen integrated into the media system which helps you navigate a safe route when reversing.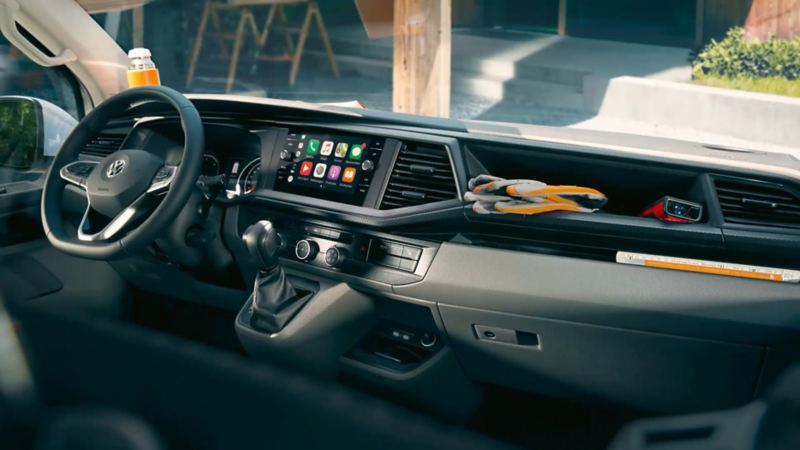 DAB+
Standard across the Transporter 6.1 range, DAB+ is the new way to receive radio with much clearer sound quality. You can now listen to your existing favourite stations without noise interference and loss of sound quality. 
On top of all the usual FM stations, you can listen to a much wider selection of additional digital stations, so you'll find plenty to suit your own particular interests. There's also no need to remember frequencies - you can just use the radio station names. All DAB+ radios have an LCD display showing the station you're listening to.
 
Audio & communication systems
Our Composition Colour DAB+ radio system is fitted as standard across Caddy Cargo and the Transporter 6.1 model range. It features a 5" TFT touchscreen, USB port, Bluetooth®, SD card slot, AUX-IN interface, and CD drive. 
The optional Composition Media system features an increased screen size of 6.33" with proximity sensor. Discover Media Navigation builds on the strengths of the Composition Media system and includes a second SD slot compatible for map data. It includes free updates for European maps through Volkswagen MapCare. App-Connect is available as an option on these systems.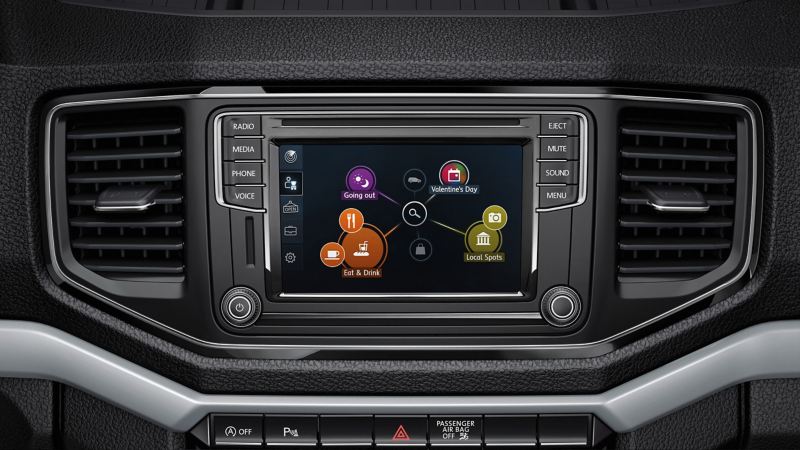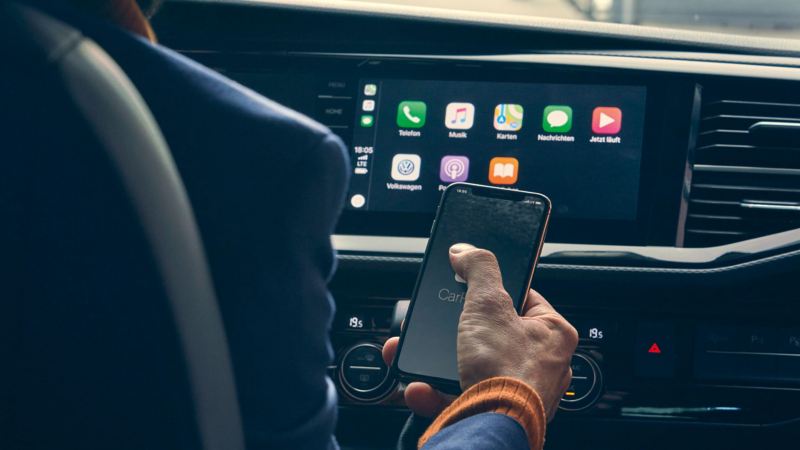 Digital
Services
Get instant access to more connected driving. Make life easier with traffic updates, mobile connectivity, key vehicle checks and built-in safety features thanks to Volkswagen Commercial Vehicles' range of Digital Services. 
Choose from a range of connectivity levels to best suit your needs - from on-demand vehicle data to fully-connected systems with media streaming and advanced navigation, there's a Digital Services package right for you.