Charging your

electric

vehicle
Welcome to our guide on how to stay charged, no matter where your journey takes you.
Welcome to our guide on how to stay charged, no matter where your journey takes you.
Charge whenever, wherever
It's official – there are now more charging stations in the UK than there are petrol stations. With the national infrastructure larger than ever, and still growing every day, it's never been easier to keep your electric vehicle fully charged and ready to go.

Not only is it easy to charge while you're out, it's also simple to have a charger of your own installed. All you need is a household socket1 or a professionally installed wall box and you can charge while you're at home.

The electric technology we build is safe and reliable. We're so confident in the performance of our lithium-ion batteries, that they all come with an 8-year or 100,000-mile warranty – whichever comes first.
Read on to discover more about our charging technology.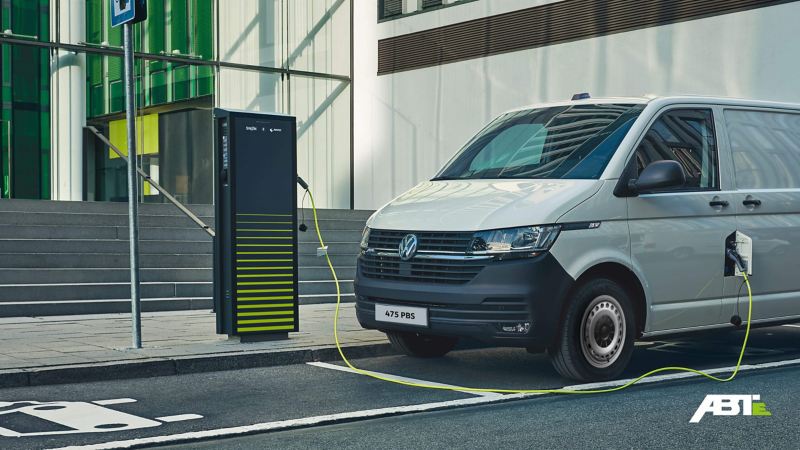 Alternating current (AC) is used by domestic UK plug sockets to get their power. Because AC sockets are so common, they are what most people use to charge their vehicles. However, there is a faster way.
By using direct current (DC) you can reach speeds of up to 350kW. We call it rapid charge because it's over 10x the speed of the mains power you'll find at home. Not all vehicles can support this speed yet, and the on board charger for your vehicle will determine the maximum charge rate available. You can charge your vehicle with DC power at CCS (Combined Charging System) stations, and our electric vehicles come with a CCS socket as standard for you to use for a quick charge.
Three ways to charge your 

Volkswagen

 

electric

van

There are three different types of plug connection that you can use with your Volkswagen electric vehicle, depending on whether you want slow, fast or rapid charging. Many charging apps will allow you to filter by connection type, so you can always be sure you'll be able to use a public charge point before you try to connect.
Mains charging (Slow)
Slow charging is offered by domestic sockets at home and some workplaces, by using the standard 3 pin plug that you use for most household electrical items1. Being the slowest way to charge, they normally offer AC charging rates of up to 2.3kW.
Type 2 (Fast)
Using a type 2 connector, fast chargers are usually found in public car parks, supermarkets and domestically installed wall boxes. Like slow chargers, they use AC but at speeds of between 3.6kW and 22kW.
CCS (Rapid)
Rapid charging is the fastest way to charge and uses a CCS socket. Using DC to charge, the most common types of rapid chargers provide 25kW or 50kW. However, ultra-rapid DC chargers can achieve 100kW with some even capable of 350kW. Rapid chargers are mostly found at service stations and on main roads and can be used to charge your vehicle in as little as 45 minutes while you stretch your legs2.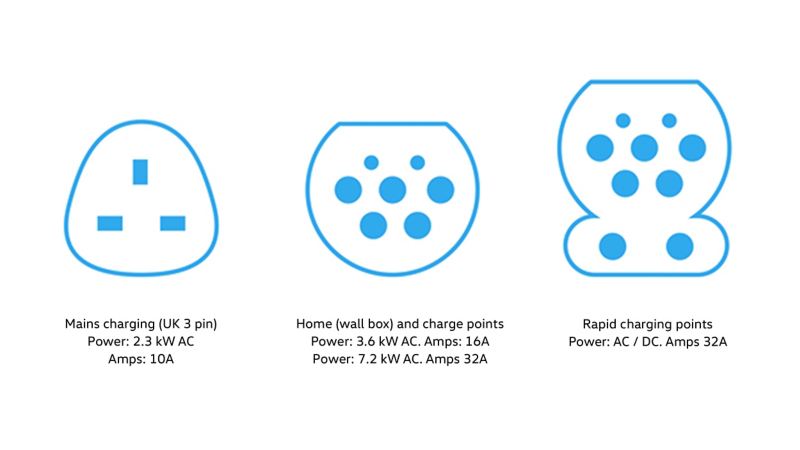 Charging at home or on the go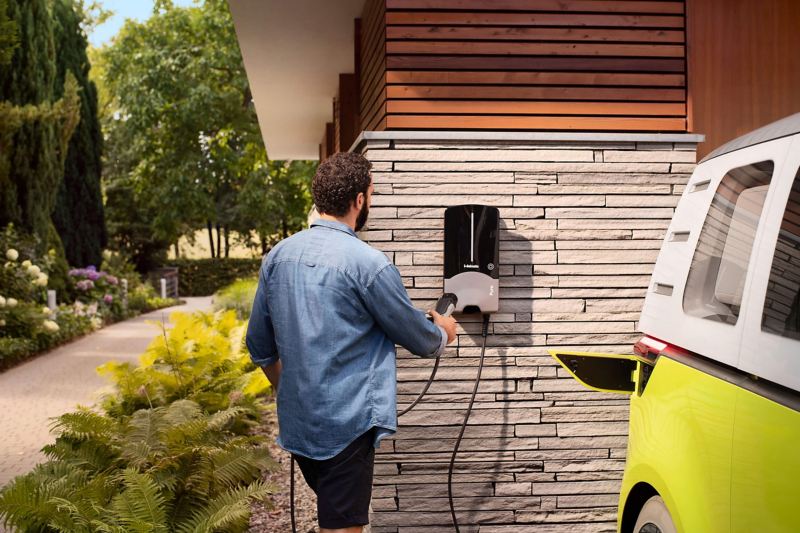 Home charging
You don't necessarily have to have any specialist equipment installed to be able to charge at home. You can charge an electric vehicle using a standard 3-pin plug1. For best results, it's better to have a wall box installed by a professional. These high voltage boxes are surprisingly affordable to install with an Office for Zero Emission Vehicles (OZEV) grant providing up to £350 towards the cost of purchase and installation. A wall box provides you with up to 55% higher charging performance, making it much quicker than charging via a domestic socket.

Charging on the go
With the ever-increasing network of public chargers, finding a place to charge if you're running low on power while you're out is becoming much easier. According to Zap Map, there are now 31,000 charging points across 11,000 different locations across the UK. The most common type you'll find are fast chargers, of which there are 16,000.
There are several different charging networks run by companies such as Pod Point, Ecotricity and Polar, which offer both national as well as regional networks. Regional networks, found in well-defined areas such as Scotland, the Midlands, or the South-West, often allow you to use their chargers regardless of whether you are registered there.
Paying for the electricity you take from a public charge point is straightforward. Mostly you'll be charged via an app or a radiofrequency identification (RFID) card. Contactless bank card payments are also becoming more and more common across many networks. Some charging points are free, but you should expect to pay to use most fast and rapid chargers.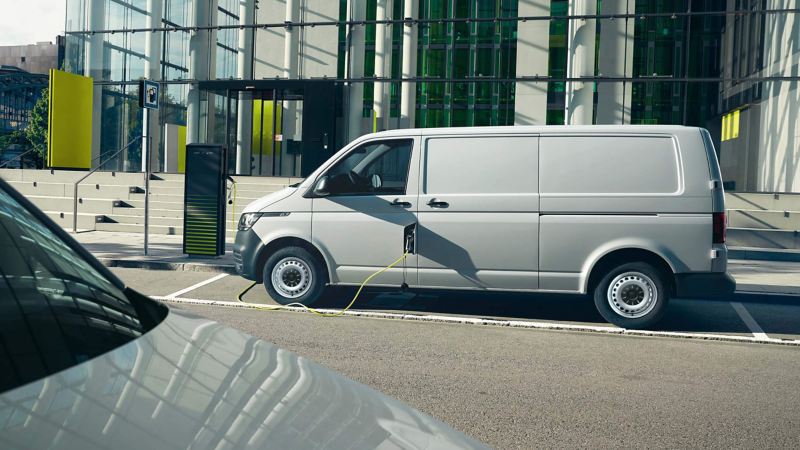 We've made charging at home simpler by teaming up with Pod Point,  the industry's EV charging experts. Since forming in 2009, they have manufactured and sold over 40,000 charging points and developed one of the UK's largest public networks, making it easier to charge your electric vehicle at home and on the go.
Our dedicated Van Centre network can refer you to Pod Point to start the process of installing your home charger by a City & Guild accredited, Pod Point Expert. 90% of customers are eligible for standard installation, which can be completed be within 10 working days with the fitting of your wall box typically lasting 3 hours.
You may be entitled to the Government's OZEV Grant and receive funding up to 75% of the cost of installing your new Pod Point Solo Charger. Claiming the OZEV Grant is easy as, if you are eligible, Pod Point will claim on your behalf as part of their installation service.
Speak to your local Van Centre for further details.