1

,

2
Our goal: Mobility that is not only electrified, but also sustainable
Our goal: Mobility that is not only electrified, but also sustainable
In order to achieve the common climate goals, a reduction in CO2 emissions is necessary in the transport sector. To do this, we are pursuing a holistic approach: we want to make mobility more environmentally friendly and efficient – and to do so in a sustainable manner. The new ID. Buzz Cargo is a good example of this comprehensive strategy. From innovative e-vehicles to sustainable recycling, we want to offer our customers everything from a single source, with almost no worries, in order to make the switch to climate-conscious e-mobility more attractive.
Innovative mobility with the

ID. Buzz

Cargo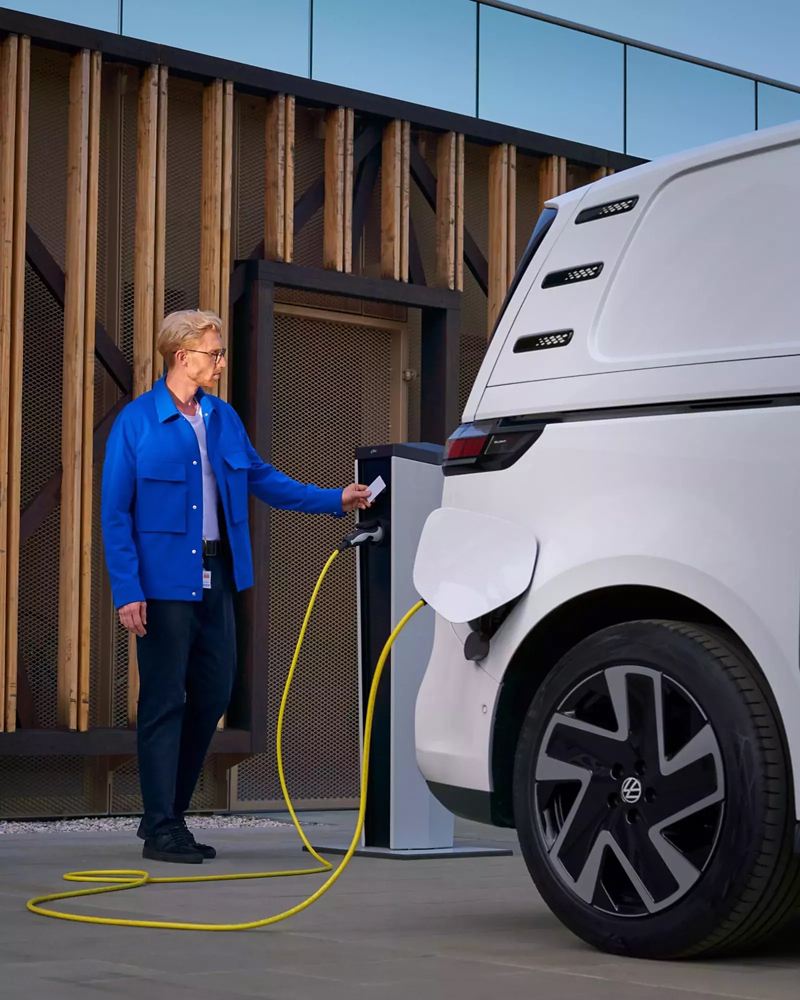 Our 360° approach to e-mobility
Climate change is one of the greatest and most important challenges of our time. That is why we are committed to the Paris Climate Agreement and have set ourselves ambitious goals. We assume responsibility for the entire share of the value chain of our vehicles and want to be a company with a CO2-neutral balance sheet by 20503.
The new ID. Buzz is the first vehicle from Volkswagen Commercial Vehicles to be developed as an electric vehicle from the ground up - from the first sketch to the last touch. It is an elementary part of our holistic 360° e-mobility approach - from the supply chain to production and the use phase to recycling. Only through comprehensive sustainable action can we achieve our goals. 
Mobile throughout Europe: conveniently charge on the go

The ID. Buzz Cargo makes your commercial mobility even more flexible, with its ability to be charged when you're stationary – for example at a public charging point on the motorway, at the supermarket or hardware shop, in a public car park or on a customer's street. 

The maximum charging power for regular charging (AC) is up to 11 kW. With fast charging (DC) - for example on the motorway - it can take only about 30 minutes to charge the battery from 5% to 80%*, providing  the maximum charging capacity of the ID. Buzz Cargo of up to 170 kW is available. 

To make the charging process even easier, thanks to Plug & Charge 4 you only have to plug in the charging cable and charging starts. With this technology, your authentication data is stored in the vehicle so that the charging station can automatically recognise who you are. This convenient technology is being rolled out step by step via an ISO-certified standard so that you can use more and more Plug & Charge4 charging stations in the future. 

*Charging with max. 170 kW DC charging power with the battery variant Pro as well as at an ambient and battery temperature of approx. 23°C and a starting SOC of approx. 5%; e.g. at an Ionity station.

Charging at home with Ohme wallbox


We've made charging at home cheaper and greener by teaming up with Ohme, who are on a mission to speed up the global transition to clean energy by providing an easy-to-use smart charging system.

The Ohme Home Pro wallbox is packed with lots of intelligent features which can help you charge your electric vehicle when carbon intensity on the Grid is at its lowest and, if you have an energy tariff with variable or intelligent rates, can intelligently charge your vehicle when energy rates are low. Thus helping you save money as well as reduce your carbon footprint.
Batteries & recycling: reliable, durable, sustainable

Since modern e-vehicles like the new ID. Buzz Cargo are designed for long periods of operation, many potential customers often ask the question: how long does the battery last? 
With the new ID. Buzz Cargo you can rely on high quality. We guarantee a usable net battery energy content of at least 70% for its lithium-ion high-voltage battery for eight years or up to 100,000 miles driven whichever comes first5. The battery delivers high energy and power density, and in addition has high cycle stability, low self-discharge and is maintenance-free.

However, factors such as the number and type of charging processes (AC/DC), compliance with charging limits or ambient temperatures have an impact on their service life. This inevitably leads to a loss of range over time. However, this does not mean that old batteries are thrown away. 
On the contrary, they deliver a significant contribution to making our holistic strategy even more sustainable. This includes so-called second-life applications, in which we use batteries after their life in the vehicle, for example as a power storage device. At the same time, we strive to recycle a high proportion of raw materials when used. As a result, up to 97 percent of battery raw materials such as nickel, copper and lithium can already be recovered in our pilot plant in Salzgitter.