Solutions Personal Contract Plan allows you to make payments over a period of time, which may be a more flexible alternative to Hire Purchase. You can choose to put down a small sum initially and then defer a proportion of the vehicle's value until the end of the agreement, which could reduce your payments and allows you to decide later whether you want to keep, return or exchange the vehicle for a new one.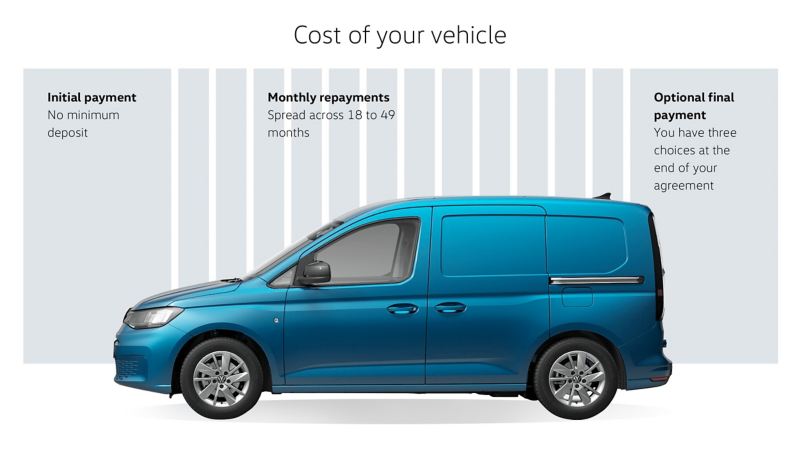 How does Solutions PCP work?
You choose your initial payment (deposit), how many miles you will drive a year, and the length of your agreement. 
This is used to work out your monthly payments and optional final payment, which give you the ability to plan ahead with a fixed monthly outgoing. 

At the end of your agreement you can then choose to: 
Hand the vehicle back (subject to excess mileage and damage charges);

Trade in your vehicle as a deposit for a new one; 

Pay the optional final payment and keep the vehicle.  
The benefits of Solutions PCP
By deferring a chunk of the amount you finance to the end of the contract, it means your monthly payments will be lower than if you spread the whole cost.
You don't have to decide what to do with the vehicle until the end of your contract, giving you the flexibility and protection needed to make the right choice for your circumstances. 
Protected from the vehicle losing value
We guarantee the final payment at the end of the contract as long as it comes back in the mileage and condition agreed. This protects you from any unexpected falls in the value of your vehicle and enables you to plan ahead with your finances. 
Get a new vehicle more often
The flexibility built into your agreement means you can keep upgrading your vehicle regularly. Great if you want to always stay in warranty, not have to deal with the long term ownership costs, or want the excitement of always driving the latest model. 
Would Solutions PCP suit me?
The flexibility of Solutions PCP means it is great for a range of individuals. It may be the best option for you if:
You think your needs may change in the next 2-3 years

Drive a low or moderate amount of miles each year

Always want to be driving the latest

Volkswagen

Commercial

Vehicle

Want to be protected from unexpected depreciation
The end of your agreement
At the end of a Solutions PCP agreement you have the choice of 3 options: 
Exchange your vehicle for a new one

If you want to move into the latest model, or maybe try a different vehicle altogether, your Solutions PCP agreement enables you to part-exchange your current vehicle for a new one. You will need to settle your existing agreement and then apply for a new one with us (subject to application and acceptance).

Keep your current vehicle

If you would like to keep your current vehicle, you will need to pay your final balloon payment and option-to-purchase fee. These will both be collected automatically by Direct Debit, so you do not need to do anything. 

Once your agreement has been settled we will automatically transfer ownership to you. The closing down period takes 10 days, after which time a letter will be sent to you to confirm that we no longer hold an interest in the vehicle.

Alternatively, if you wish to keep the vehicle but want to spread the cost of the final payment we can consider arranging to refinance the final (balloon) payment for you, subject to a new finance application.

If you no longer wish to keep the vehicle at the end of the agreement, you can return it to us. You will still need to pay all the monthly rentals and the option to purchase fee, and further charges may apply if you have exceeded your agreed mileage, or if there are any refurbishment costs following our inspection and collection process. 

Volkswagen Financial Services will require a minimum of one months' notice in order to arrange the vehicle collection so please contact us as soon as you know what option you want to take. Requests made after this date may result in a risk of you requiring additional Insurance, Road Tax or even an MOT, along with the possibility of the Direct Debit for the final (balloon) payment being taken.
Financing that works for you
Choose the best finance package for you with our simple guide to the various options available.