Partnering with FareShare to help refuel the nation
Every year 1.9 million tonnes of food is wasted by the food industry. To help put an end to food waste Volkswagen Commercial Vehicles has partnered with FareShare and award-winning eco-chef Tom Hunt to produce delicious, zero-waste recipes.
An estimated 250,000 tonnes of the 1.9 million wasted by the food industry each year is still edible. That's the equivalent of around 650 million meals1. Food waste has become an even more prevalent issue because of the impact COVID-19 has had on many peoples' budgets.
Working together with FareShare and Tom Hunt, an award-winning chef and sustainability expert, we've created affordable, zero-waste recipes that are so simple they can be cooked in the Volkswagen California's kitchenette.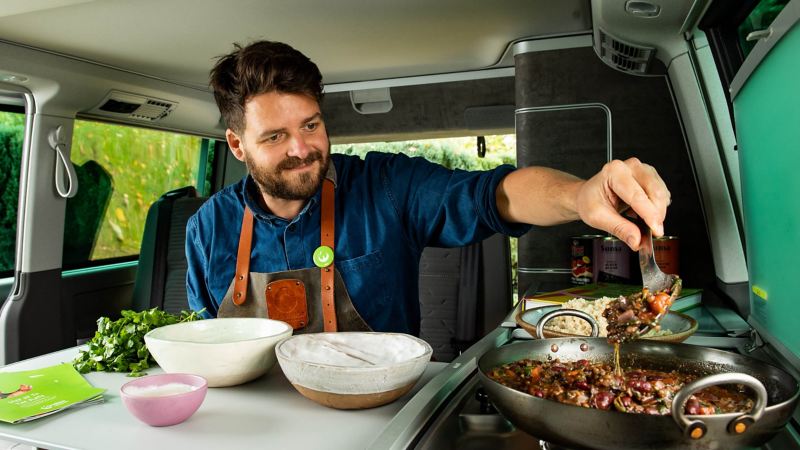 Tom was keen to take on the Volkswagen California Challenge and rose to the occasion by rustling up two delicious meals following recipes from his debut book Eating for Pleasure, People and Planet. Using the California's two hobs, fridge and tap, Tom showed just how easy it is to cook sustainably.
Using store-cupboard staples like tinned lentils and kidney beans, Tom started with a 'Five minute lentil dal'. Tinned foods not only help reduce food waste but also have long-lasting best-before dates and are easily recyclable. Adding some common spices, an onion, chopped tomatoes and rice to serve, this recipe could not be simpler to make.
Tom then went on to create his 'Not avocado on toast', a delicious broad bean guacamole with coriander and chili. Smashing the broad beans like you would an avocado creates a fresh looking green guac with a deliciously creamy texture that is far cheaper than the avocado equivalent. Plus, because broad beans are easier to grow in the UK they are more sustainable to source.
"Hundreds of thousands of tonnes of good food is unnecessarily wasted in the UK every year and in light of the pandemic we are even more determined than ever to raise awareness and educate the food industry and public about the easy ways to avoid excess food waste, whether it's using simpler ingredients or utilising store-cupboard staples. The partnership with Volkswagen Commercial Vehicles and Tom shows just how easy it is to cook delicious meals that are affordable and reduce food waste without the need for loads of equipment."
- James Persad,
Head of Marketing and Communications at FareShare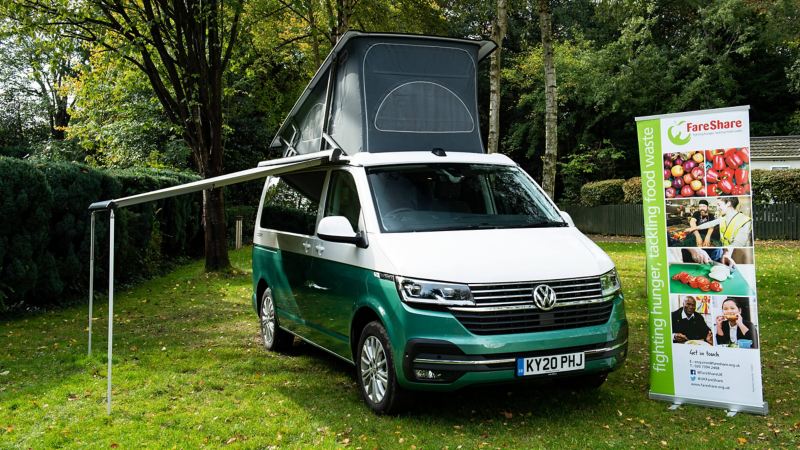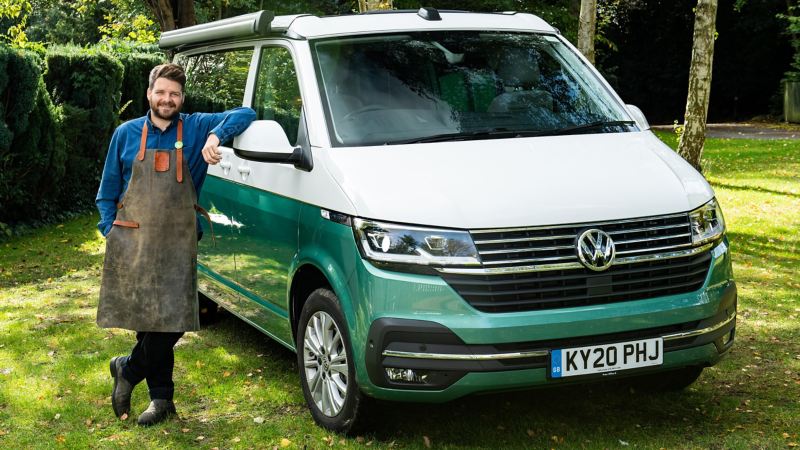 "Sustainable and zero-waste waste cooking is extremely important to me. I love creating amazing recipes that are locally-sourced, seasonal and create as little waste as possible so this challenge was the perfect opportunity for me. The two recipes I created in the Volkswagen California are quick and easy to make, taste delicious and crucially leave zero waste at the end."
"Small changes such as using up store-cupboard staples like tinned food or swapping avocados for broad beans can make a huge difference and I'm delighted I was able to share some of my popular hacks with FareShare and Volkswagen Commercial Vehicles."
- Chef Tom Hunt
Fancy trying Tom's recipes?
Click below and download the recipe cards for both of Tom's flavoursome creations.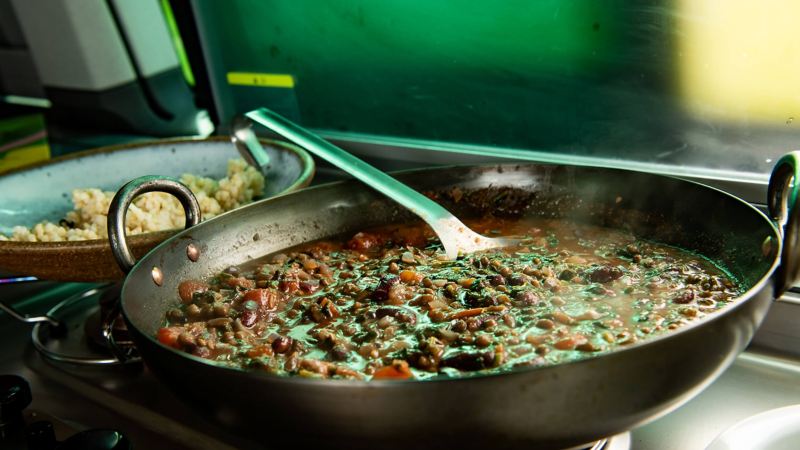 Fare Share's top tips to help reduce food waste in the UK
Don't buy more than you need and keep track of what's in your fridge. It won't just help you reduce your food waste – it will save you money too

Always check the use-by dates of food when you buy it. Use-by dates are about food safety, so these are the dates to pay attention to. Only buy something if you know you'll have the time to eat it before it goes off

Planning is key! Plan your meals for the week ahead, and don't forget to think about how you're going to use up the leftovers

Check your fridge temperature. It should be between 0-5°C. Some foods, especially dairy products, will go off much quicker if it's warmer

Use your leftovers. Not sure how to use your leftover food? Try looking up new recipes online

Freeze it! Parboil and freeze left over vegetables or spend a bit of time batch cooking meals to freeze in individual portions at the weekends. That way you'll always have something delicious to eat, and nothing gets wasted
"We were delighted to be in a position to help FareShare during the height of COVID-19 crisis, providing them with additional vans to help transport food to where it was needed most across the country. The charity carries out vital work, and we were only too happy to help, in any small way we could, as staff and volunteers set out helping those hardest hit by the pandemic. The California Cooking Challenge with Tom was a great opportunity to continue our support of a valued fleet customer and help to raise further awareness around the issues of food waste and sustainable cooking in the UK."
- Kate Thompson
Head of Marketing  at Volkswagen Commercial Vehicles