A van for adventure, your home on the road, a collector's item. Not many Volkswagen vehicles compare to the versatility of the camper van, lovingly referred to as the Bulli in Germany. And there aren't many Volkswagens that have provided so many unforgettable moments for their owners. From the T1 launched in 1950, to the T6 of today. The coffee-table book "Bulli Love" is a celebration of the love for this versatile vehicle and an homage to its biggest fans across the globe. We spoke to five such fans to hear all about their standout camper stories.
Drinking in the moment
Whenever they get the chance, Hisanobu Hayashi and his friends pack their surfboards into their T3 Transporters and head to Omaezaki, a Japanese coastal town on the tip of a peninsula in the mighty Pacific. Wide beaches, the roar of the surf and excellent waves have brought the friends back to this spot, time and again.
One of their best moments was cracking open a beer in their little camp of T3s. That feeling of allowing the pleasant post-surf exhaustion to wash over them was just a sense of pure freedom.
Built for anything
"It always pulls through," says Justin as mud spatters his neck. Justin is in the midst of the Shasta Snow Trip (SST), a glorious adventure against the backdrop of dense woods in Northern California. Justin beams with pride as his 1965 Velvet Green Roadrunner successfully battles through a gigantic muddy puddle. While Justin's camper may not have a 4Motion all-wheel drive system, it's exceptionally well-suited to off-road driving. And besides, the water will eventually drain away.
As for Justin, he's as happy as a newt—the name that competitors in the SST award themselves based on the love of moisture they share with the little amphibians. "It's only fun with an old-style camper," Justin says. No other vehicle out there can conjure up so much excitement and enthusiasm.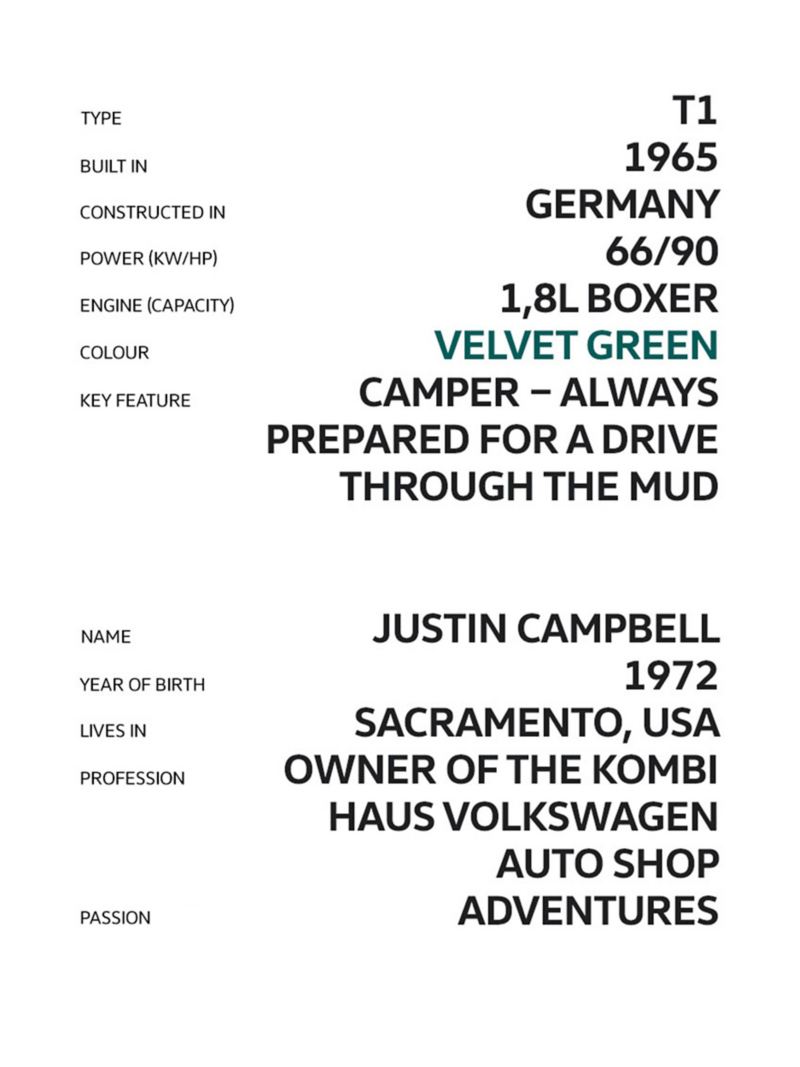 A heavenly home
The tyres roll leisurely over the old cobbled stones of Freiburg in Breisgau, south-west Germany. The familiar and friendly image belongs to Pit Vaas' camper van. The Cream White and Tornado Red T1 originally served as a transporter for the fire brigade.
Once Pit has attached the huge wings of his fixed-wing aircraft back onto the roof, he's practically in heaven. Pit loves hang gliding as much as he loves his camper van, and Schauinsland mountain is edging nearer. The T1 climbs the twists and turns up to 1,280 metres and bravely tackles each corner, its modest 44 hp engine admirably up to the task. Pit says goodbye to his trusty companion at the valley station, already looking forward to gliding back to it later. Sometimes his entire family are waiting for him back in the van. It makes the place feel even more like home.
Taking it slow
The best companion for a journey through New Zealand? A camper van of course, so say Catrin and Julia. Crystal-clear mountain lakes, ancient forests, and endless beaches await the two girls from Berlin. As they sit on the bed on the folded down rear seats, making their plans each evening, they sometimes think to themselves that a little more speed would be nice. However, their companion, a 1966 T1 in Titian Red and Beige-Grey, keeps to its own more relaxed maximum speed—just the encouragement the girls need to slow down and enjoy their holiday at a leisurely pace.
In a tiny village on the western coast, the camper comes to a stubborn standstill. It will take a few days before the clutch can be repaired. "What to do?" the girls say to themselves. The sun is shining so they tear open a packet of Kiwi chocolate and just enjoy the moment. So, despite their initial dreams of a faster trip, their camper van introduced the girls to the relaxing pace of life they'd been seeking.
Hidden speed
Heinz Swoboda is a seeker, someone who sees things nobody else sees. Like his second camper van—the B32. It was hiding in Switzerland, having already passed through several auctions unsold and overlooked by specialist collectors. Only Heinz recognised this hidden treasure.
One week later, the camper was parked outside his house in Vienna. And Heinz had a big smile on his face. The owner's manual had revealed something extraordinary—his camper was equipped with a Porsche 911 Carrera engine. With a 227ps output, it speeds from 0–60mph in just 9.6 seconds and hits a maximum speed of 115mph. Heinz now races rapidly through the city, driving what is probably the sportiest camper van of all time.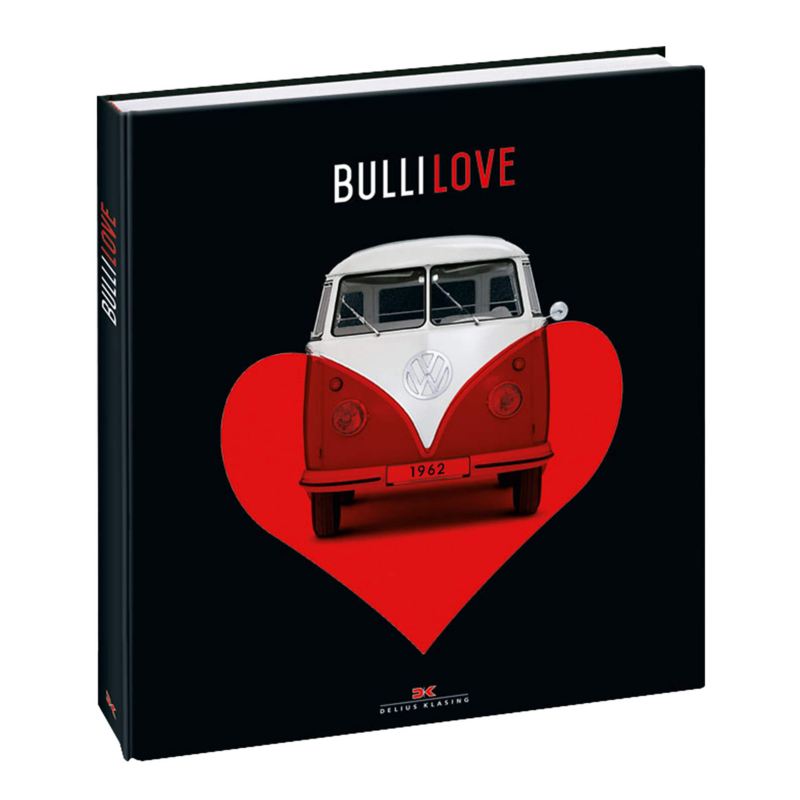 Bulli Love
To mark the world première of the T6, the book paints a portrait of 33 fans from every corner of the globe—from young New Yorkers to stars like the chef Johann Lafer and racing driver Jacky Ickx. "Bulli Love" is published by Delius Klasing and available in book shops in German, English and Chinese.
(ISBN: 978-3-667-10304-8)