When
e-mobility
first started buzzing
In the beginning was the e-camper van. Then came the e-Golf. Electric-powered vehicles made by Volkswagen have been cruising Germany's roads for almost 50 years. The vehicles were developed by Adolf Kalberlah, who began studying future driving technologies with a small team of innovators in Wolfsburg in 1970. Welcome to a pioneering tale from the early days of electromobility.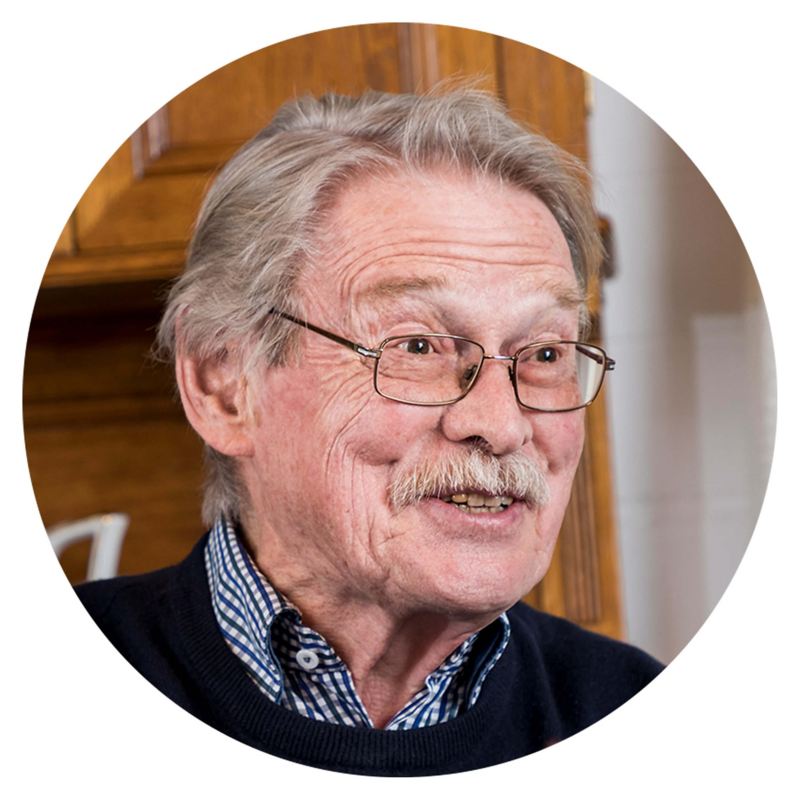 How it all began
Although it was nearly 50 years ago, Adolf Kalberlah remembers 1970 quite clearly. That was the year Volkswagen established its centre for future research in Wolfsburg. It was a time of transformation and innovation. Even though mass adoption hadn't yet arrived, it was clear that electric drive technologies were the future.
One of the most urgent tasks was to advance the development of electromobility. As a specialist in battery research who had just obtained his doctorate in electrochemistry, Kalberlah was a perfect fit for the job and became department head. "One study at that time said the world's oil supply would only last another 20 years," he recalls with a laugh. But in the 1970s, the oil crisis and expensive petrol were every bit as real as rising emissions in the world's cities. "Environmental protection emerged as an issue and everyone was studying alternative drive technologies. Volkswagen was naturally at the forefront of those efforts".
Everyone was studying alternative drive technologies.
T2 campervan with
electric

drive

Top speed: 43 mph
Range: roughly 43 miles
Battery weight: 850kg
Charging time: 10 hours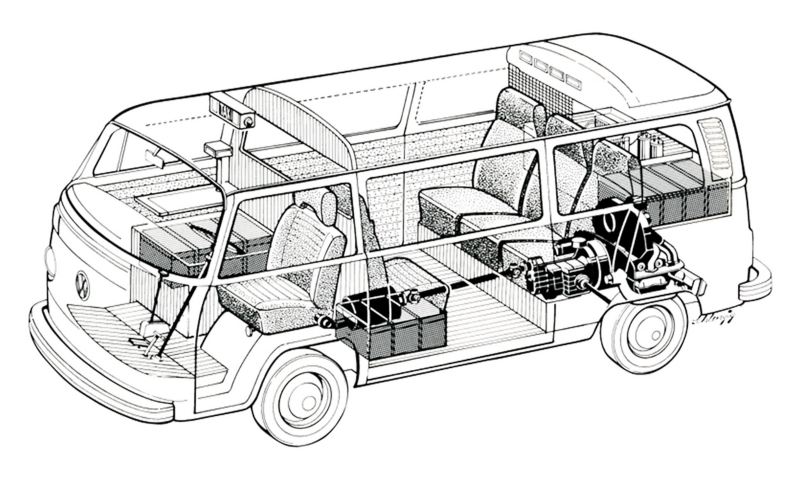 It was a time of transformation—which then didn't come to fruition. But it did seem that the time for electric drive technologies had arrived. "We were relatively autonomous as a department and could try a lot of things," says Kalberlah. He and his 10-person team did some truly pioneering work. They developed a complex battery system and tested processes for controlling motors. "It's almost hard to believe today, but we simulated the concept of the hybrid engine with analogue computers." After just two years the team launched its first vehicle in collaboration with energy supplier RWE: a T2 camper van with an electric drive unit.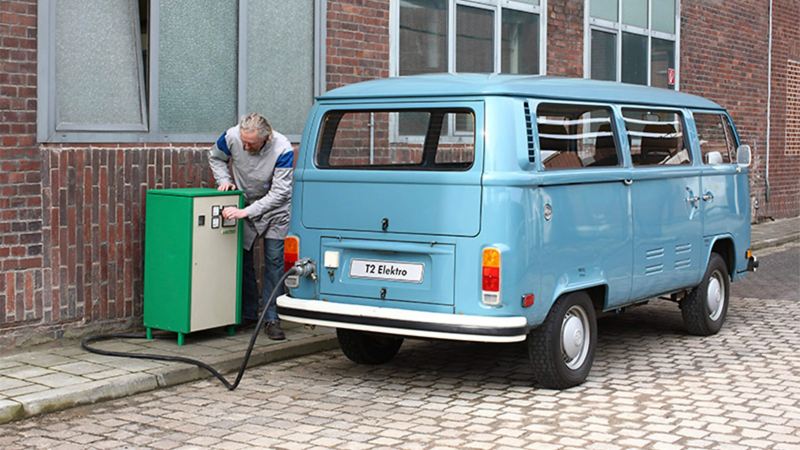 "Zero litres per 62 miles," was the e-camper van's slogan. Adolf Kalberlah revs the old engine: "We were very proud of our electric transporter. It seemed to be the perfect alternative for use on short routes—in municipal vehicle fleets, as service vehicles, or local delivery traffic." As long as the vehicles were only driven within the city, a battery charge was absolutely sufficient. And it was possible to recharge anywhere: the charging cable worked in any 220–volt outlet.
As the man who was there at the time says, that only some 20 e-camper vans were ordered beyond the roughly 200 test vehicles was a sobering experience, but it was understandable. The clean drive technology wasn't cheap, and the battery made the vehicle quite heavy. The battery alone weighed nearly a tonne, and regular maintenance was a challenge. "We worked with modified jacks and forklifts to hoist the battery into the vehicle and to pull it back out again," says Kalberlah. RWE provided the rapid-changing technology that meant an empty battery could be exchanged for a new one. A service-free battery was still years away at that point.
Zero litres per 62 miles.
"Nevertheless, we believed in electric drive technology," says Kalberlah. "It was clear to me at the time that people will always manage to generate electricity." In 1976, the very first Golf with an electric drive was produced. 1981 saw a limited production run of the Golf I CitySTROMer for testing purposes. And Kalberlah himself used the electric Golf almost daily. "I always had an extension cord on me," he says with a sly grin. "It would hang down from relatives' balconies when I had to charge my car."
Once he was stopped by two police officers because they couldn't find an emissions badge on his number plate. Another time there wasn't enough juice in the battery to reverse the electric hybrid-drive camper van when it got stuck. So the engine was used as a generator to charge the battery. Kalberlah is still amused by all the old stories from the days when electromobility was regarded as more of an exotic novelty than a practical technology – back when only pros like him drove an electric vehicle home.
T2 Electric Transporter (1972)
Kerb weight: 2.2 tonnes
Battery of the Electric Transporter: 850 kilograms heavier than a contemporary Beetle
With battery: over 3 tonnes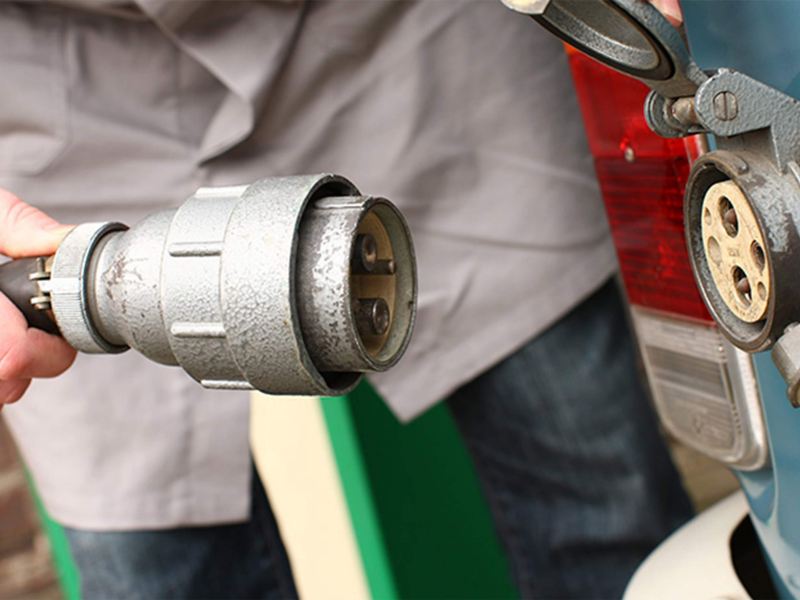 Mr e-mobility
Kalberlah became famous practically overnight in 1976. The Museum of Modern Art in New York City was running a competition to design the taxi of the future. Kalberlah's team developed the City Taxi, a T2 electric transporter with a hybrid drive system and electrically controlled doors. After returning from New York, Kalberlah drove the yellow e-camper van into the studio on live television. The next day, everyone knew who he was. "It was the talk of the cafeteria. There were only three channels on German television at that time and everyone had seen the show."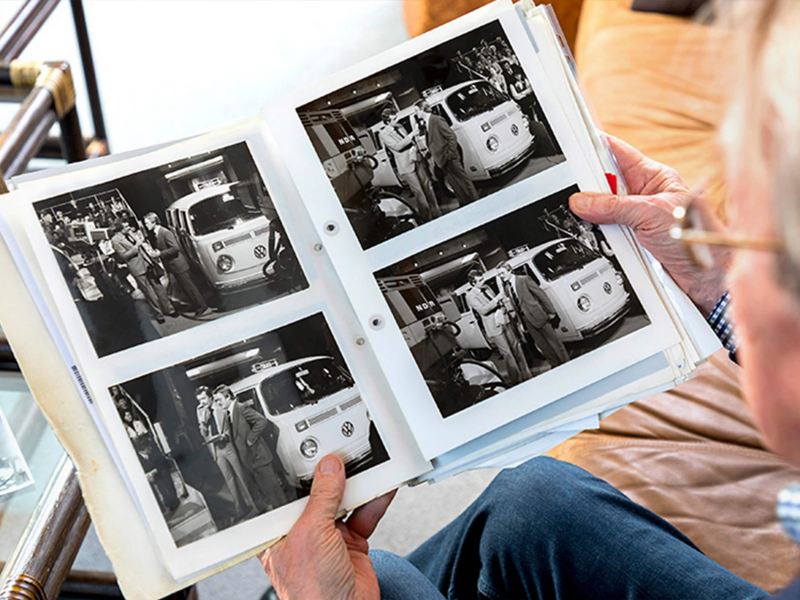 The "Mr e-mobility" nickname came later. "We were the leaders in the application of batteries in vehicles," he says. His department at Volkswagen had earned a far-reaching reputation, and people looking for expertise in electromobility made their way to Wolfsburg. For example, they were visited by a power-supply company based in Tennessee, USA. "They wanted to find a sensible use for their excess hydro-electricity," says Kalberlah. So they bought 10 electric transporters with maintenance-free batteries. Alas, the batteries didn't agree with the sultry Tennessee climate. "They rang us and we had to give them a remote diagnosis." The consultation proved a success as an additional ventilation system resolved the issue.
There was a lack of incentives for the user. It's different now.
"There were setbacks like that, of course," says Kalberlah with a hint of wistfulness in his voice. But true pioneers aren't easily discouraged. The fact that electromobility didn't take off at the time didn't surprise him. "I'm a realist," he says pensively. Electric vehicles are better for the environment and make cities cleaner. "But back then there was a lack of incentives for the user: special parking spots, for example. That's being worked on today." Its time had simply not yet come. "And we were actually rather happy about it." Seriously? "Back then, there was no one who could take care of an electric vehicle—except for us. One of my people was constantly off somewhere because nobody in any vehicle workshops knew what they were doing."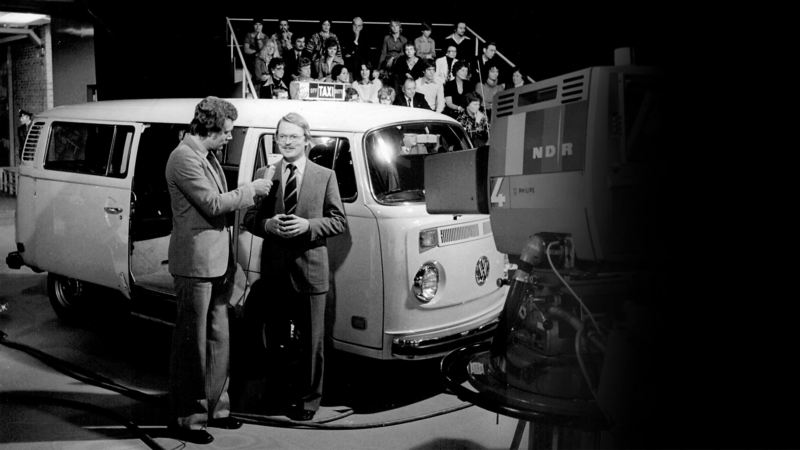 Charging into the mainstream
Some 47 years after Kalberlah's pioneering beginnings, electric vehicles have accelerated into the mainstream. There are a few factors driving this change: an improvement in the range of electric vehicle batteries; generous government grants for early adopters; better availability of charging points; and courageous countries who plan to restrict the sale of new petrol or diesel cars. The growing list includes the UK, Germany and Norway.
It's been a long journey, but it seems Kalberlah and his Wolfsburg colleagues are about to arrive at their destination.