Volkswagen Commercial Vehicles is committed to electric mobility. The 2016 International Motor Show (IAA) saw the unveiling of an e-Crafter concept vehicle.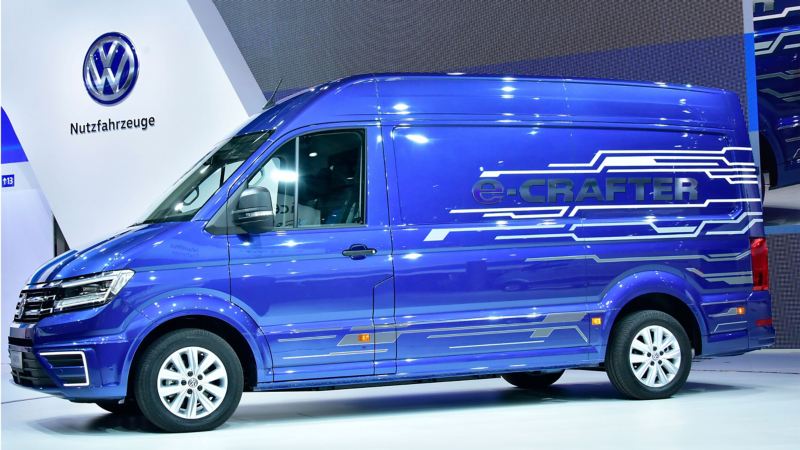 The mobile e-workplace of the future 
"We are showcasing lightweight commercial vehicles that suit how we live our lives today and function as a mobile workplace for our customers' many different applications", said Dr Eckhard Scholz, Chairman of the Board of Management for the Volkswagen Commercial Vehicles brand, speaking about the company's philosophy back at the 2016 IAA.
Setting new standards for zero-emissions vehicles in the city
The first electrically powered Crafter debuted in 2016 at the IAA Commercial vehicles show in Hanover. The e-Crafter set new standards for zero-emission use in urban centers. If you're a courier or logistics manager we're sure you'll be looking forward to the launch of this powerful electric van—with many cities looking to ban combustion engines in the next few years, it's important to know that you'll be able to drive a vehicle that lets you continue to work in those areas.

The e-Crafter concept had nothing to fear from its diesel equivalent. It benefits from the same impressive features: a load volume of approximately 11.3 cubic metres, a maximum load compartment height of 1,961 mm and a maximum payload of 1,709 kg. Even loaded with more than a tonne of weight, the e-Crafter accelerates powerfully with practically no delay, courtesy of up to 290 Nm of torque. A powerful 100-kilowatt electric motor propels the vehicle to its top speed of 50 mph. At lower speeds, the super-silent concept makes its own "driving noise" to signal its presence to pedestrians.