IAA

Commercial

Vehicle Show 2018
Experience the mobility of the future, today
September 2018 saw the 67th IAA Show—the world's most important trade fair for transport, mobility and logistics—take place in Hannover, Germany.
With "Driving Tomorrow" as its theme, we shone a light on five new and exciting electric vehicles including the I.D. BUZZ CARGO, shared customer-specific vehicle solutions, and introduced the new fleet management tool: We Connect Fleet.
The I.D. BUZZ CARGO
Offering a view of the future, we introduced the all-electric I.D. BUZZ CARGO concept—the first commercial vehicle to be based on the I.D. Family. 
Featuring an automated driving mode (I.D. Pilot), smart shelving and a built-in workbench, our most innovative zero-emission concept vehicle yet demonstrates what the future's vans could be like but keeps the iconic look of the first Transporter. 

The e-
Crafter
Making range anxiety, poor performance and limited cargo space a thing of the past, the e-Crafter is part of a new generation of electric vehicles that can compete with combustion engines on both performance and efficiency. Boasting 290Nm of torque, just over 100 miles on a full charge and space for 4 Euro pallets, the e-Crafter is just as hard-working as its diesel stablemates.
It's already on sale in Germany, where drivers have been won over by its excellent acceleration and handling, driver assistance packages, quiet and smooth driving experience, and seamless power delivery.
It's not just drivers who benefit. Developed specifically for deliveries in European cities, the e-Crafter offers lower running costs, reduced emissions, environmentally-friendly credentials and a sizeable payload. As low-emission zones or total diesel bans from cities come into force and governments maintain electric vehicle grants, the e-Crafter could be the sensible choice for forward-thinking inner-city operators with an eye for a deal.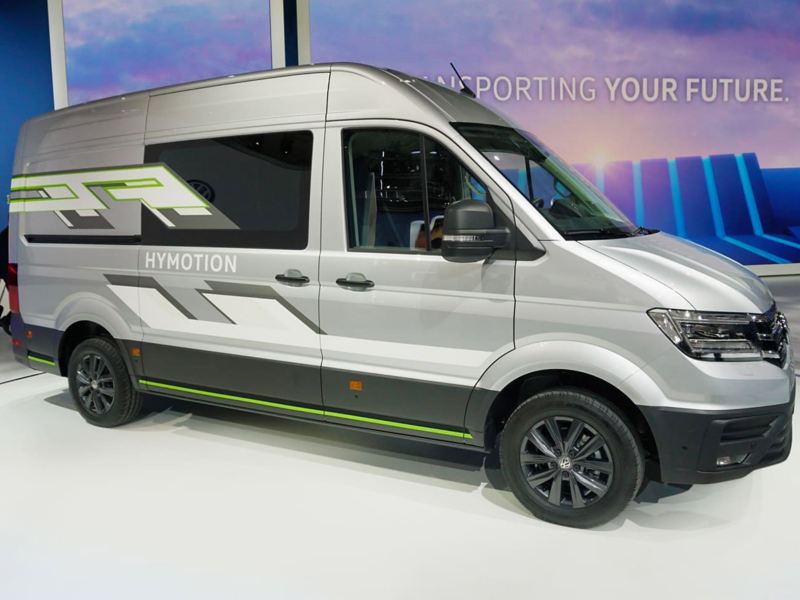 The
Crafter

HyMotion concept

Based on the e-Crafter, the Crafter HyMotion concept has a hydrogen fuel cell drivetrain and smaller batteries, giving a longer range of around 310 miles with zero emissions.

With its long-range capability, rapid refuelling and 4.25t gross vehicle weight promising a respectable payload, the Crafter HyMotion is just as suited to covering long distances as the e-Crafter is to inner cities.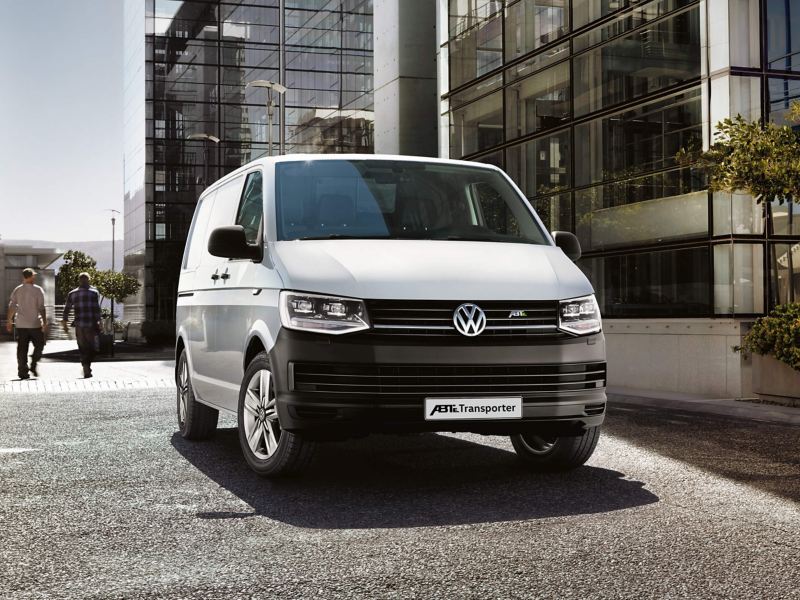 A powerful partnership:
Volkswagen

Commercial

Vehicles and ABT

ABT Sportsline know electromobility. After years of research and multiple championships in the FIA Formula E electric race series, their experience meets a new sector.

Our first joint offering to reach production is the ABT e-Caddy, featuring all the benefits of a Caddy Maxi; room for 5 people to sit comfortably, numerous driver assistance systems and a durable interior. Add in zero emissions and it's the ideal city taxi.

The ABT e-Transporter concept is a potential future offering from the partnership. It's no less adaptable as an electric vehicle, offering enough space for a complete workshop or seating for up to 9 people.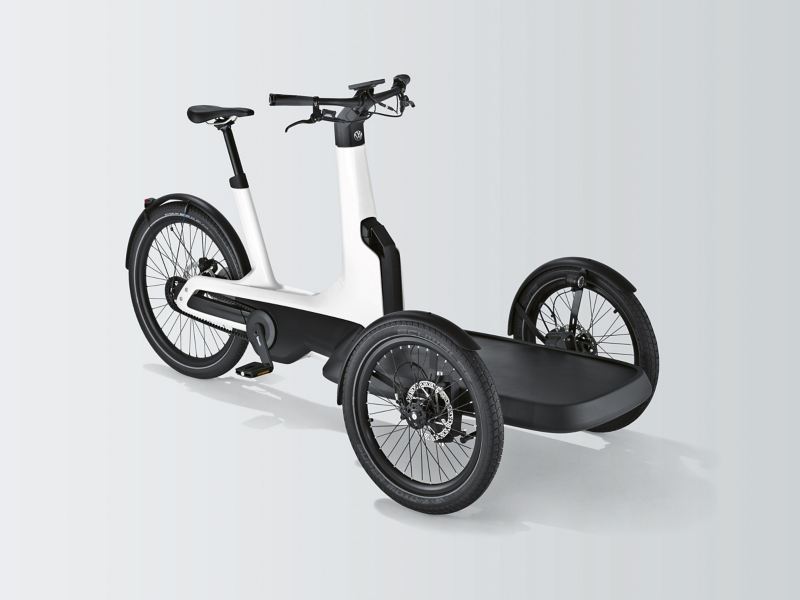 The Cargo e-Bike
The e-bike is an important mode of transport in the future of mobility, particularly for busy European cities, where more spaces and charging facilities have been created for flexible and eco-friendly transportation. As online ordering increases in popularity, fast and clean last mile delivery solutions will need to keep up.
Cue the Cargo e-Bike, the world's most advanced electric cargo bike and our first pedelec (pedal electric cycle). Ideal as a last mile delivery solution, it can carry up to 210kg.
Fleet management for the future: We Connect Fleet
The mobility of tomorrow needs new, smart solutions—that's why we've designed We Connect Fleet. Designed to support fleet managers with tasks such as route planning and logbook inspections, the digital system will be available both on desktop and as a mobile app. Further details to be announced.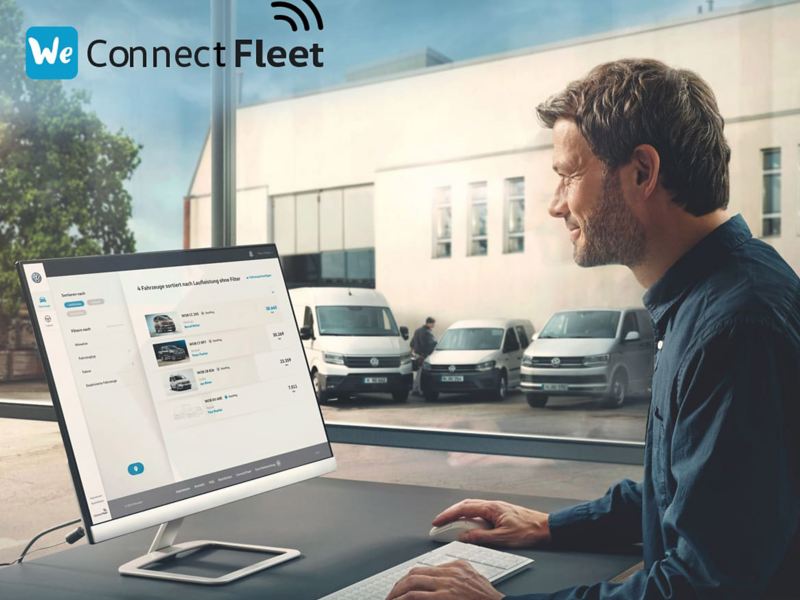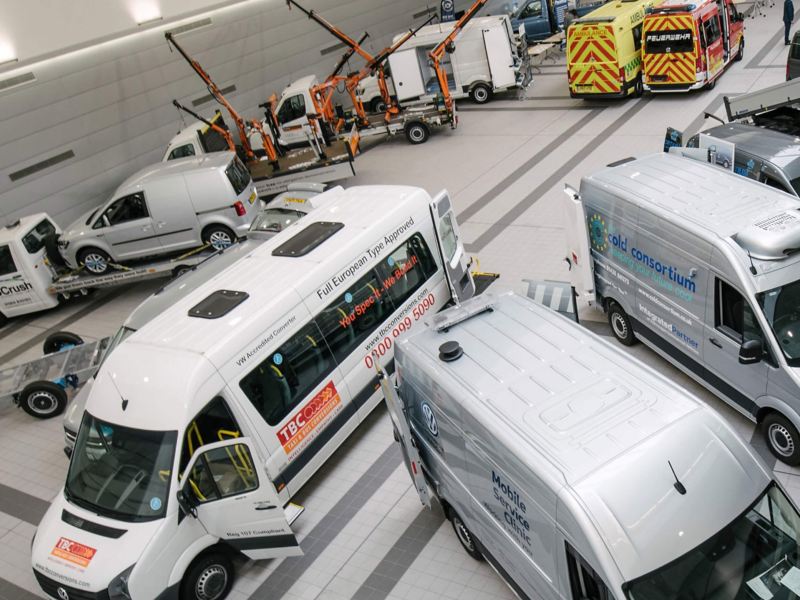 Tailor-made
commercial

vehicles

The demands on light commercial vehicles are bigger than ever before, and customised solutions are a must. To make the process as easy as possible for you, we've partnered with a series of Recognised Converters to offer expertly designed and customised vehicles for your exact business needs. 

As well as this, we also offer popular conversions such as tippers and dropsides off-the-shelf through the Volkswagen Crafter Conversions™ programme. Contact our experts at a Van Centre near you for more details.