Showcasing highlights from the world of

Volkswagen

Commercial

Vehicles at the

Commercial

Vehicles Show 2019.
We understand your business is personal
That's why once again this year we wanted to make you feel at home. Our stand at 2019's CV Show was customised to feel like a living room, creating a relaxed, natural setting for us to welcome visitors. What better way to discuss the different ways we can work with you to help make your business more successful in the coming year?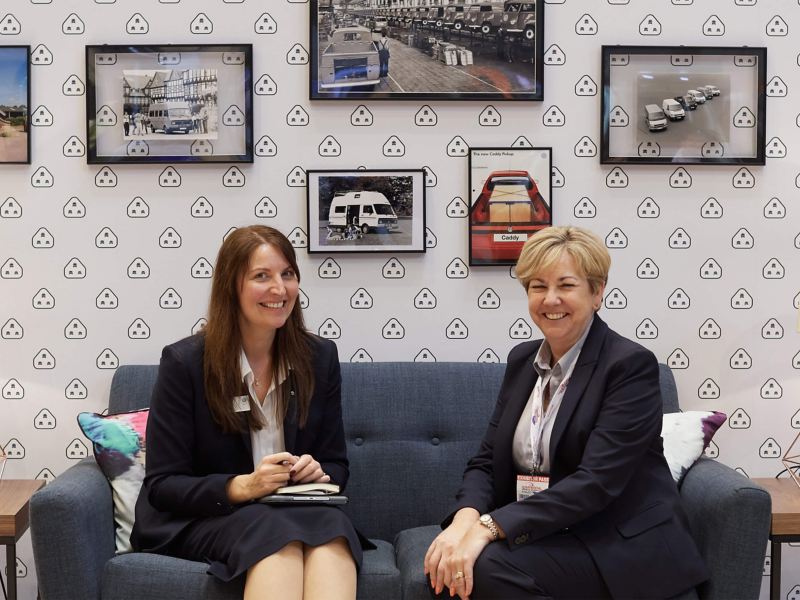 An electrifying future
The buzz around electric vehicles shows no signs of abating. At the CV Show, customers discovered the future of commercial vehicles and had the opportunity to discuss the benefits of electrification; from lower total costs of ownership and low-emission zone access to a relaxing drive and improved company image, electric vehicles benefit drivers, fleet managers and customers. What's more, our electric range has been developed without compromising the load area's shape or volume.
With a range of around 100 miles, a 45-minute charge to 80% and the same advanced driver assistance as all Volkswagen vans, the e-Crafter certainly turned heads at the show. Shown alongside all-electric versions of the ABT e-Caddy and ABT e-Transporter, the future of commercial vehicles was on display. With diesel bans and low-emission zones meeting financial incentives and short charge times, going electric could benefit your business as well as the environment.
Volkswagen

van

conversions

We know you need a vehicle to suit your business. Whatever your needs, our award-winning conversion programme lets you build the van for the job. The vehicles from our Recognised Converters have the same quality and 3-year warranty as every other Volkswagen Commercial Vehicle.

We offer a range of conversions in partnership with Recognised Converters to provide off-the-shelf solutions from our Volkswagen Crafter Conversions™ range, or create bespoke vehicles for your needs through our Recognised Conversions™ scheme. The nationwide Van Centre network makes the process seamless from design to delivery and lets you concentrate on your business.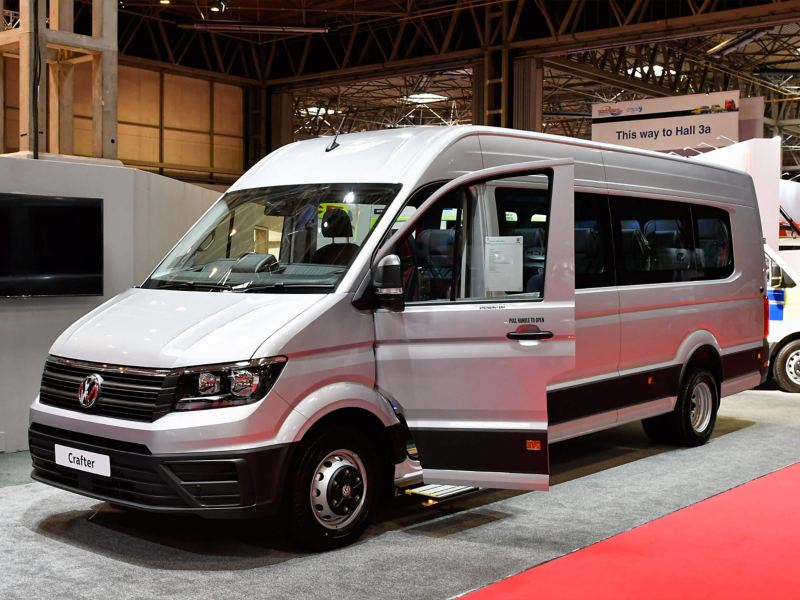 Made of tougher stuff
Debuting at the 2019 Commercial Vehicle show, the new Volkswagen Crafter police riot van conversion features structural and material improvements for greater safety, manoeuvrability and visibility. Volkswagen Commercial Vehicles' Accredited Blue Light Conversion Partner Coleman Milne Specialist Vehicles carried out the conversion using the five tonne, long wheelbase Volkswagen Crafter in Trendline trim as the base vehicle.
Additional seating for seven people, a half width prison cell, a bespoke storage system to house riot shields, helmets and other equipment have been included as part of the interior overhaul, while the exterior has been modified with additional side windows, and the front windscreen replaced with a strong, flexible and impact-resistant reinforced KASIGLAS® plastic.
We're at your service
The more time your vehicles spend in servicing, the less time they're spending on the road benefiting your business. Not to mention the time lost in traffic and travelling to your local Van Centre. What if rather than going to the service centre, the service centre came to you? That's the concept behind our Mobile Service Clinic vans, driven by fully-qualified Volkswagen technicians, carrying Volkswagen Genuine Parts and ready to service and maintain your fleet at its base.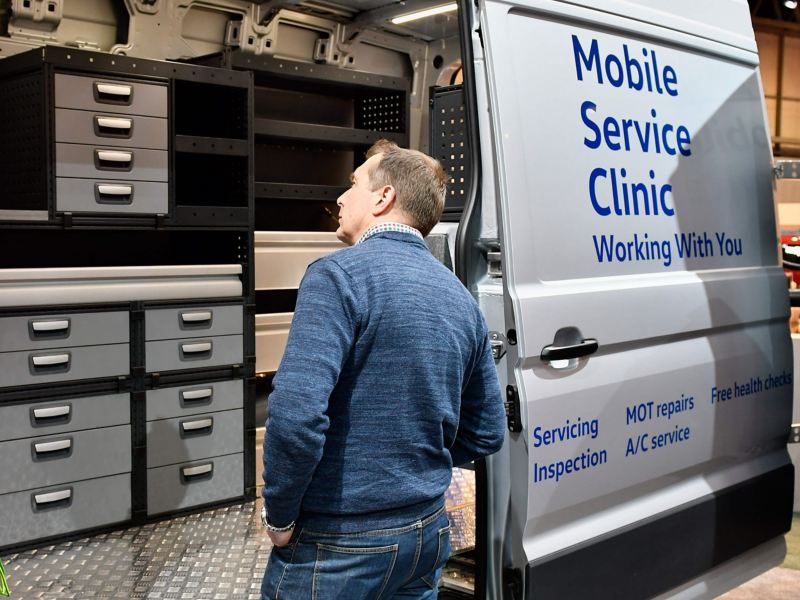 Bringing a Van Centre to your doorstep
A Mobile Servicing van will come to your vehicle base at a time that suits you. They're able to perform MOT repairs, vehicle inspections, ODIS diagnostics and minor warranty work. Customers at the CV Show were able to experience first-hand how our fleet of Mobile Service Clinic vans can help maximize the amount of time their vehicles spend on the road. It's all part of our Working With You promise to be your trusted business partner.
Watch the 2019 CV Show highlights
Check out the best of the show to get a flavour of how the event was received by those lucky enough to attend. If you'd like to learn more about how our Working With You promise can help to keep your business moving, contact your local Van Centre