Royal British Legion Cookbook
Volkswagen

California

adds campervan flavour to Royal British Legion centenary cookbook

Cooking With Heroes to celebrate 100th anniversary of the Royal British Legion
Official cookbook includes recipes from world-renowned chefs and volunteers from the Army, Navy and Royal Air Force

Illustrated recipes collated from 100 regions around the world

Featured recipes can be used as inspiration for staycation meals cooked in

Volkswagen

's range of campervan models
Written by serving military personnel and veterans, the cookbook includes illustrated recipes from 100 regions around the world.
Each regional recipe is accompanied by a fascinating profile of a hero specific to that region – a service man or woman whose incredible contribution to the community will be remembered through the ages.
The cookbook highlights the iconic Volkswagen California, in which a number of the featured recipes can be cooked. Using the two hobs, fridge and running tap that all come as standard in the California, you can use the centenary cookbook for inspiration while on the road this summer.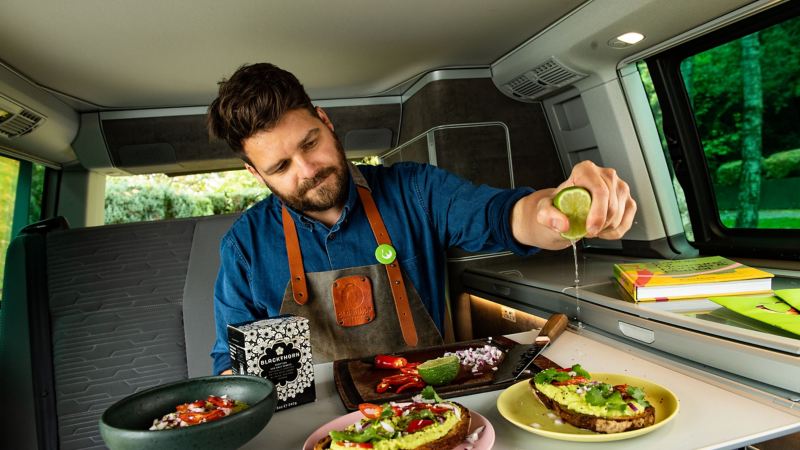 Kate Thompson, Head of Marketing for Volkswagen Commercial Vehicles, commented: "We are extremely proud to have worked with the Royal British Legion centenary cookbook. The valuable and dedicated work carried out by the charity is a huge inspiration to us all. The cookbook has some delicious recipes, and we are certainly looking forward to trying them at home, or even in one of our campervans while on the road this summer."
The valuable and dedicated work carried out by the charity is a huge inspiration to us all.

Head of Marketing for

Volkswagen

Commercial

Vehicles
Here's one recipe for you to try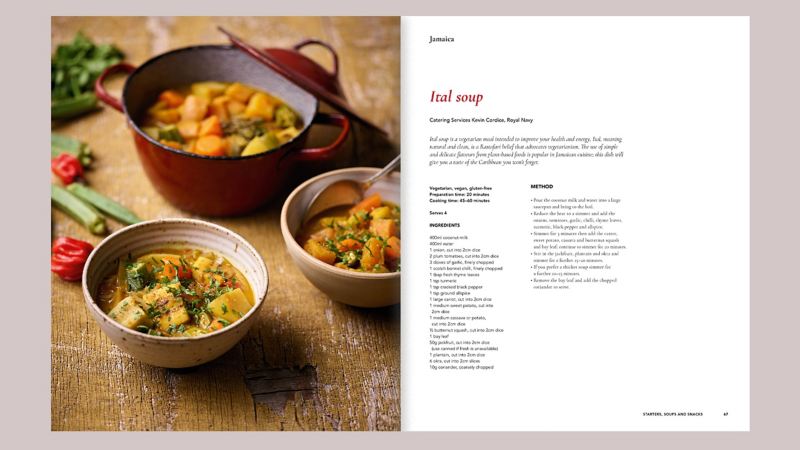 Vegetarian, vegan, gluten-free

Preparation time: 20 minutes

Cooking time: 45 – 60 minutes
Ingredients
1 onion, cut into 2cm dice

2 plum tomatoes, cut into 2cm dice

3 cloves of garlic, cut into 2cm dice

1 scotch bonnet chilli, finely chopped

1 tbsp fresh thyme leaves

1 tsp cracked black pepper

1 large carrot, cut into 2cm dice

1 medium sweet potato, cut into 2cm dice

1 medium cassava or potato, cut into 2cm dice

½ butternut squash, cut into 2cm dice

50g jackfruit, cut into 2cm dice (use canned if fresh is unavailable)

1 plantain, cut into 2cm dice

6 okra, cut into 2cm dice

10g coriander, coarsely chopped
Method
Pour the coconut milk and water into a large saucepan and bring to the boil

Reduce the heat to a simmer and add the onions, tomatoes, garlic, chilli, thyme leaves, turmeric, black pepper and allspice

Simmer for 3 minutes then add the carrot, sweet potato, cassava and butternut squash and bay leaf; continue to simmer for 20 minutes

Stir in the jackfruit, plantain and okra and simmer for a further 15-20 minutes

If you prefer a thicker soup simmer for a further 10-15 minutes

Remove the bay leaf and add the chopped coriander to serve