Volkswagen

Commercial

Vehicles is proudly supporting Surfwell emergency

services

mental health initiative
Surfwell is a mental health pilot project set up by the emergency services to support staff struggling with mental health, resilience, and workplace performance using the proven scientific benefits of surf therapy.
Volkswagen Commercial Vehicles is supporting Surfwell with a loan of three Volkswagen vans to assist the charity with its initiatives this summer. A Volkswagen Crafter will transport equipment to and from the sessions, and two Caravelles will help transport the team and participants.
Surf therapy is a method of intervention that uses surfing to promote psychological, physical and psychosocial well-being.


(International Surf Therapy Organisation)

Sam Davies and James Mallows, founders of Surfwell, discovered surfing to be a coping mechanism for their own stress and traumas, and wanted to share their experiences and passion for the unique therapy with their colleagues working in emergency services. Surf therapy is used around the world in military and charity sectors.
1 in 4 emergency workers have considered taking their own life
The Surfwell initiative has been formally trialled by the police as a support system for staff struggling with mental health. The charity aims to also support the ambulance, fire, coastguard, RNLI and other emergency service providers in the future.
The initial sessions are based in Devon and Cornwall with an aim to expand across the country in coming months.
The Surfwell Programme includes:
Confidential and highly praised ongoing support

Rewarding full day therapy

Trusted and professional psychology path

Credible research and investment in surf therapy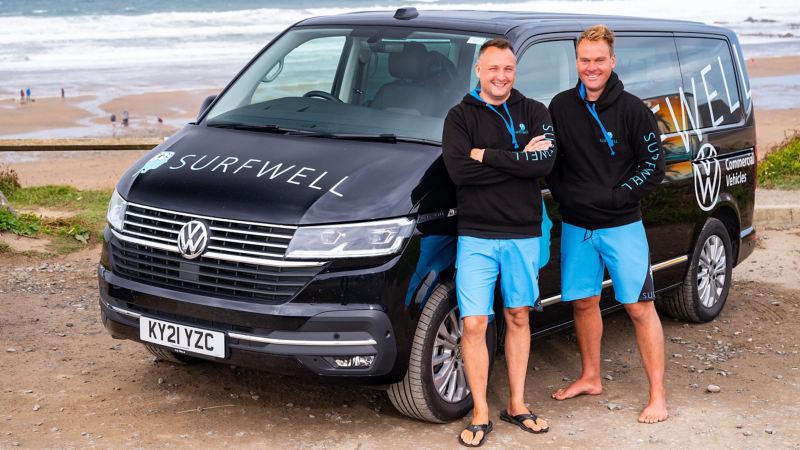 Having seen first-hand the proven benefits of surf therapy, we really believe this initiative will help to support blue light workers across the UK.
Mental health in the workplace is an extremely important topic and we're glad to be able to help with such an exciting initiative.


Head of Marketing, Press and Public Relations for

Volkswagen

Commercial

Vehicles