The all-electric model, built on the unique DNA of the legendary T1 camper van, delivers maximum space, flexibility and cutting-edge technology. An innovative interior combined with excellent manoeuvrability means the ID. Buzz is ready to accompany you on any adventure.
Watch the ID. Buzz World Premiere and take a closer look at the latest information here.
A revolution in light

commercial

vehicles
The ID. Buzz Cargo is a van like no other. The new electric light commercial vehicle makes use of its clever MEB platform to offer vast internal space in a compact body. A low centre of gravity, rear-axle steering and a tight turning circle of just about 11 metres makes it perfect for confined city environments. And all this comes in a stylish, iconic design that's a world away from commercial vehicles of the past.
Maximum space
The ID. Buzz Cargo is based on Volkswagen's innovative MEB platform, allowing clever packaging that frees up to 3.9m1 of cargo space. 
Agile and manoeuvrable

The electric powertrain, with 320Nm of torque, and purpose-built body result in a low centre of gravity and a turning circle of a just about 11 metres. Top speed is electronically limited at 145 km/h (90mph).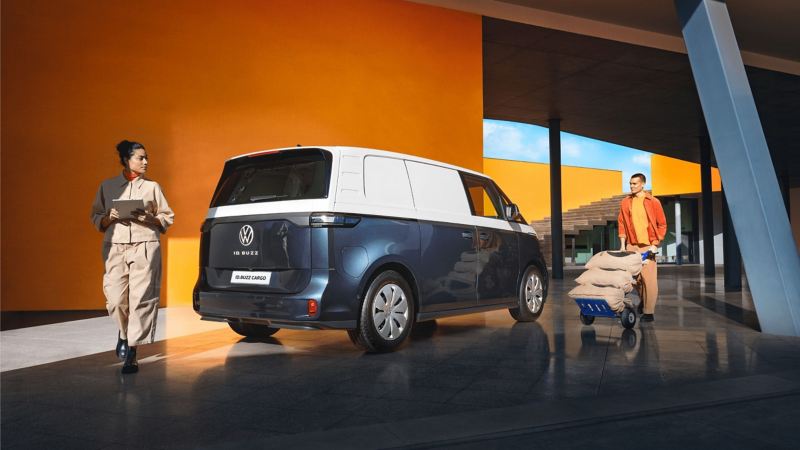 Striking design
The ID. Buzz Cargo is the ideal combination of commercial purpose and iconic design. The large Volkswagen logo on the front and the LED daytime running lights in the headlights gives the vehicle a strikingly different appearance that feels unmistakeably progressive while embodying Volkswagen's unmistakeable DNA.
Fast charging, zero emissions
The ID. Buzz Cargo is a zero emissions vehicle, making it a huge step forward in sustainable commercial driving. The battery can be charged to 80% capacity in 30 minutes using a 170 kW DC fast charging system. It will also charge from any conventional household socket, and from a range of compatible charging stations and wallboxes. 
Plug & Charge function
Plug & Charge software streamlines the charging process by automatically authenticating your ID. Buzz Cargo as soon as you plug it into a quick-charging station. There are no apps, logins or card payments, you simply plug in and charging begins2.
Bidirectional charging
The versatility of the ID. Buzz Cargo is enhanced by its bidirectional charging capability, allowing owners to use the van as an energy storage unit or as a power source while out and about. 
Innovative tech
Over-the-air updates

Every member of the ID. family is capable of over-the-air updates and the ID. Buzz Cargo is no exception. Software updates for the infotainment, charging and driver assist systems can all be downloaded without the need for a Van Centre visit3.
Assist systems
Life with the ID. Buzz Cargo is made more relaxing thanks to a broad range of driver assist systems that includes Park Assist Plus with Memory Function, which can automatically manoeuvre the van in and out of parking spaces), Car2X, which can warn of hazards on your route, and the latest version of Travel Assist, which combines Adaptive Cruise Control and Lane Keep Assist4.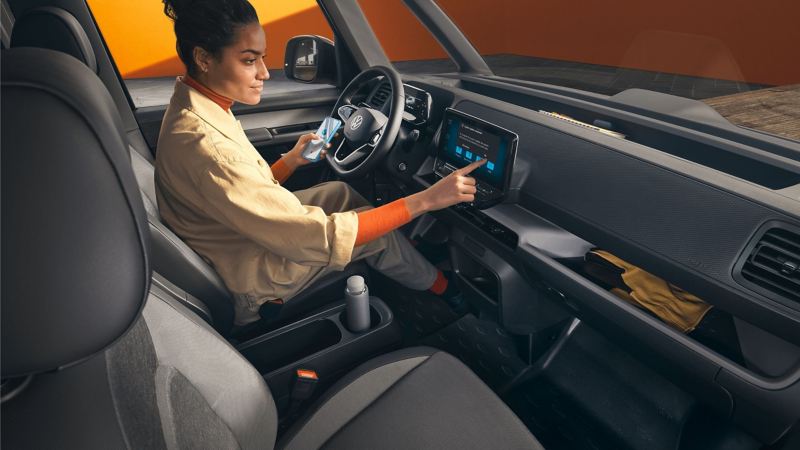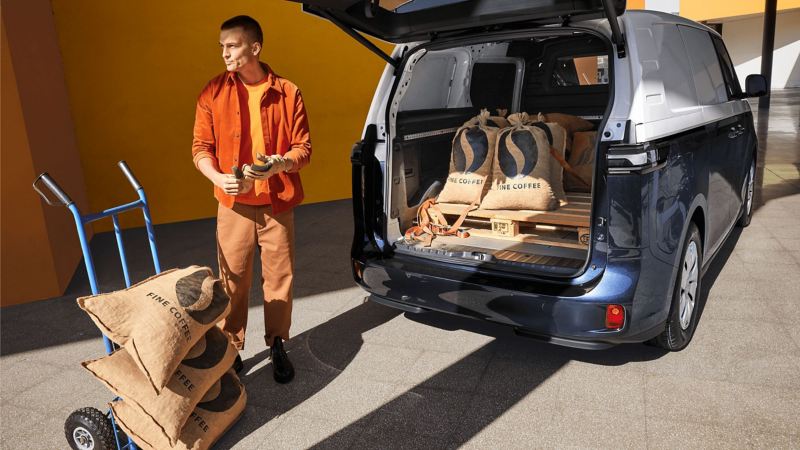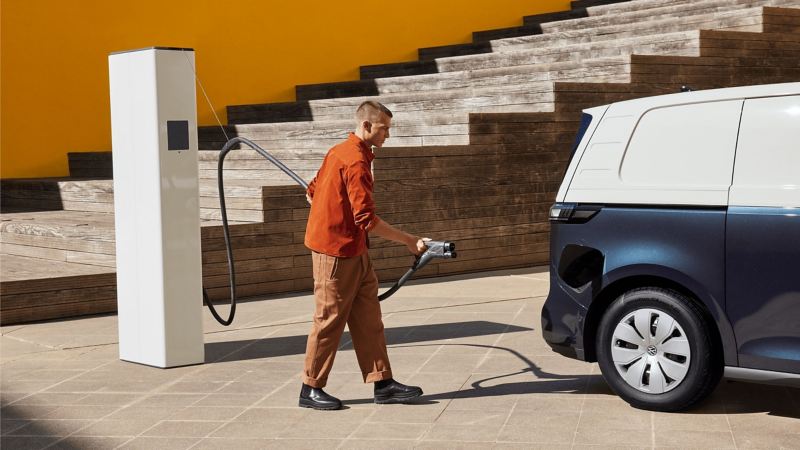 Built for the future,
the

ID. Buzz

Cargo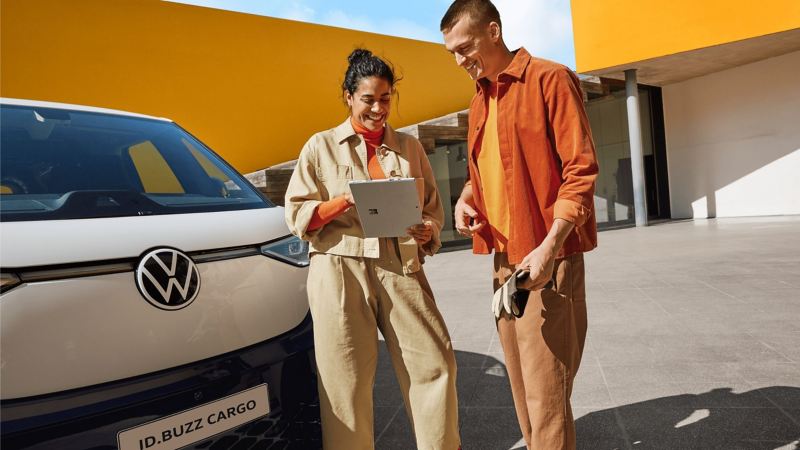 Built for the future,
the

ID. Buzz

Cargo

An integrated approach to

electric

mobility: innovative mobility with the

ID. Buzz

and

ID. Buzz

Cargo

For truly sustainable mobility, the entire life cycle of a vehicle has to be taken into account and CO2 emissions reduced at every stage. Switch to electromobility now – with the innovative, networked ID. Buzz and ID. Buzz Cargo.
We take responsibility for our part of the value chain of our vehicles and are committed to the Paris Climate Agreement – with the aim of becoming a carbon-neutral5 company by 2050. The ID. Buzz is the first Volkswagen Commercial Vehicles model to be developed from scratch as an electric vehicle. It will be a fundamental building block in our integrated 360° ecosystem for electric mobility. That's because we can only achieve our goals if we take an integrated approach to acting sustainably.

Integrated charging solutions


The ID. Buzz is not just a climate-conscious way to drive, but also more flexible. That's because an electric vehicle should have an individual, sustainable ecosystem that adapts to your mobility. You previously had to drive to a filling station, but now you charge the ID. Buzz when you're not using it anyway. This might be at the charging point at work, at a public charging station on the motorway, in front of the supermarket, in a car park, where your friends live or at your own personal home charging point. The maximum power for quick charging (DC) is up to 170 kW and it takes around 30 minutes to charge the battery from 5% to 80%. The Plug & Charge5 function makes charging easier: authentication, charging and billing take place automatically once you plug in the charging cable. The maximum charging power for regular charging (AC) is 11 kW. Simply use the We Charge service to find available charging stations on the road.

Zero local CO2 emissions and a long electric range are crucial if an electric drive is to be practical for everyday use. With the ID. Buzz we have to meet the needs of many different people, from private customers to tradespeople. The innovative electric drive in the ID. Buzz makes this possible. The e-motor is accommodated in the rear in a particularly space-saving way and makes towing loads of up to 1,000 kg possible without any problems. Sustainable, suitable for everyday use and robust: the electric drive of the ID. Buzz combines climate awareness with individual mobility.